Marches were held in cities around the world this weekend to protest genetically modified organisms, with most of their concern aimed at the chemical and bio-technology giant, Monsanto.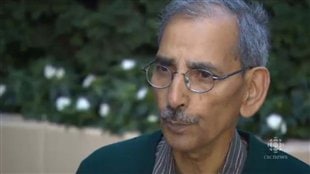 The American headquartered multi-national is the world's biggest creator of genetically modified products.
A genetically modified organism (GMO) is one whose genetic material has been altered using genetic engineering techniques, sometimes by moving genes from one species into a totally unrelated species. Such organisms include micro-organisms such as bacteria and yeast, insects, plants, fish, and mammals.
Marches and rallies were held in dozens of cities across Canada and in the United States, in Europe, Australia, Brazil, Colombia and South Africa and elsewhere.
The marches came just ahead of World Food Day on Wednesday, October 16.
In the major west coast port city of Vancouver,British Columbia, some 400 people marched through downtown streets, and organizer Lili Dion called on the public to educate themselves.
"I want people to ask questions," she said. "A lot of people, it's surprising, don't know what GMOs are, or the lack of testing and how much it is in our food. So I just want people to ask questions… do your own research."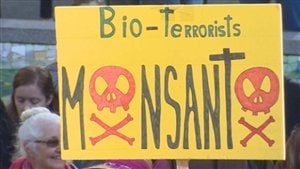 In Brantford Ontario, march co-ordinator Nicole Da Silva said Canadians are still ill-informed about GMO's in their daily foods  "If you talk to almost anybody on the street, they don't know what GMO is and they've never heard about Monsanto. We want people to go home, look up Monsanto, look up GMOs, and decide for themselves", she said.
Whether called, GMO's, GM foods or GE foods (genetically engineered) they are colloquially called "frankenfoods" by those opposed to the products.
In response to such criticism, Monsanto says that its products are well tested for safety, and that its products are increasing farmers productivity.
In addition to concerns over the long-term health effects of consuming GM foods, marchers also accuse Monsanto of "cultural genocide" of squeezing small-holder conventional farmers out of their markets in various places around the world, and also of slowly squeezing original seeds out of the market and even potentially out of existence.
Roy Smolinski, another march organizer in Brantford said,"What if we find out years from now that who we have been producing this way is no good and we don't have the original seed, then what do we do?", He added, "All the GMOs are coming without people's informed consent."
The marchers also accuse Monsanto of fighting attempts to get GMO labeling on product packaging in the US and Canada, and elsewhere,  although in the European Union, such labeling has been required for years.
A New York Times poll conducted earlier this year showed 93% of Americans felt genetically modified foods should be labelled as such.
In Canada,the federal government has approved dozens of GM crops, but most are not actually grown or sold in Canada, except for corn, canola, soybeans and the sugar beets used to produce white sugar. Products that contain any of these items, including most processed and packaged foods, likely contain genetically modified ingredients. Many meats are also affected, since animals are often fed GM crops.
In a CBC interview earlier this year, well-known geneticist David Suzuki said people are unwittingly part of a giant experiment in relation to GMO's . That's because long term health consequences of a large population segment have not been done. He says because products are not labelled, consumers are unknowingly consuming them and becoming part of a long-term uncontrolled experiment. He also says inter-species gene-splicing is bad science, as the long term outcomes cannot be presumed based on standard gene science
The first GM product to be given a licence for human consumption was the Flavr Savr tomato in 1994 engineered by the company Calgene in the US. The modified gene structure was to delay the tomato from softening while ripening for less bruising in shipping. Calgene was later acquired by Monsanto.
Interestingly, a CBC news report from back in December 1999 cited "the Independent" newspaper in Britain that there is a notice in the cafeteria of the Monsanto pharmaceutical factory in High Wycombe, Buckinghamshire, advising the plant staff that "as far as practicable, GM soya and maize (has been removed) from all food products served in our restaurant. We have taken the steps to ensure that you, the customer, can feel confident in the food we serve."
The notice was posted by the Sutcliffe Catering Group.  At the time, Monsanto confirmed the authenticity of the notice, but company spokesman Tony Coombes says the only reason for the GM-free foods is because the company "believes in choice."
 GENETICIST DAVID SUZUKI SPEAKS ABOUT GMOs