The reporting of emissions of some hazardous air pollutants in Canada's western oilsands projects are "very likely too low," according to new research from the University of Toronto. Scientists there used a model to assess the reported emissions of some polycyclic aromatic hydrocarbons (PAHs). Many PAHs are highly carcinogenic.
PAHs are released during the process of extracting oil from the heavy sand. Monitoring has so far only considered the pollutants released directly into the atmosphere. But this study looked at other ways PAHs are released, for example though evaporation from waste or tailings ponds.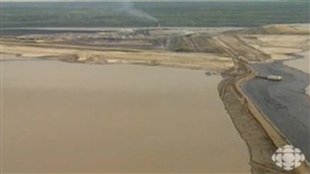 Risks perhaps underestimated
"Our study implies that PAH concentrations in air, water, and food, that are estimated as part of environmental impact assessments of oil sands mining operations are very likely too low," said Professor Frank Wania. "Therefore the potential risks to humans and wildlife may also have been underestimated."
The study by Wania and PhD candidate Abha Parajulee was published in the Proceedings of the National Academy of Science.
Not enough monitoring
The environmental watchdog Pembina Institute agrees there is not enough funding to appropriately monitor emissions. It is a member of the joint oilsands monitoring program set up by federal and provincial governments two years ago.