Francois Hollande arrived Sunday for three-days in Canada.  The visit began in Calgary, Alberta when the French President, accompanied by a large delegation of French business and academic leaders, as well as several of his cabinet ministers, landed.
Prime Minister Stephen Harper was in his Calgary home to welcome Hollande, and then drove him the 90-minutes west for a visit in the mountains of Banff, Alberta.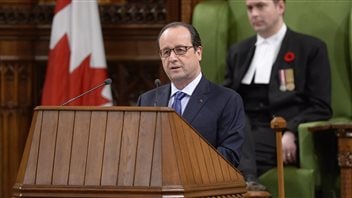 Today the French President was in Ottawa, where he addressed Canada's parliament. He stressed greater co-operation on security and continued work together to deal with the Islamic State.
Then, as the host of the next major climate-change conference, Hollande caused a little discomfort, stressing the need for concerted efforts in this domain as well.  Stephen Harper addressed the issues immediately in the press conference following the talk, reiterating his assertion that when there is a global agreement that binds all the big emitters, Canada will join..
This is the first official visit of a French president since Francois Mitterand came in 1987.  Nicolas Sarkozy attended the Canada-EU summit in 2008, but he did not visit the country beyond the Quebec City location.
Bilateral merchandise trade between Canada and France totalled more than $8.5 billion in 2013, making France Canada's eighth-largest commercial partner.
Federal Employment Minister Jason Kenney told CBC News, "It's not a coincidence that President Hollande asked to come to Alberta because I think the Europeans increasingly see Alberta as an engine of the Canadian economy. I think the largest French investments in Canada are here,"
Tomorrow the French delegation will visit Montreal, and Quebec City.