The governor of the Bank of Canada reignited a storm of controversy when he suggested young people looking for jobs should do unpaid work as a way to get experience. Stephen Poloz made the remarks to a House of Commons committee one day after telling a business group in Toronto that 200,000 young Canadians are out of work, underemployed or getting more education to try to improve their chances of getting a job. Students and advocacy groups say it may be more.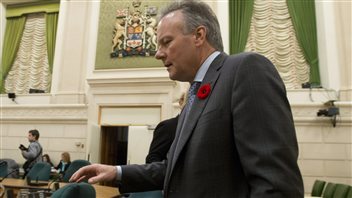 Youth suffer almost double the rate of unemployment
The unemployment rate for those aged between 15 and 24 was 13.5 per cent in September, according to government statistics. That's almost double Canada's overall rate.
Twitter lit up with outraged reaction from young people, one suggesting Poloz should himself try working for nothing and living in his parents' basement for a while.
Work for nothing is illegal in Canada
Advocacy groups pointed out that it is illegal to have people work for nothing in Canada, unless the unpaid internship is part of a formal education program.
Listen
"I think his (Poloz's) comments are ill-considered and very dangerous," said Andrew Langille, a labour lawyer with the
Canadian Intern Association
.
"What he's suggesting is subverting the minimum wage laws in Canada so that firms…can have workers who are unpaid. We have employment laws and standards in Canada for a reason, so that there isn't a race to the bottom."
Unpaid internships favour the rich, says MP
The suggestion that young people can live with their parents while getting unpaid work experience is vehemently opposed by Member of Parliament Scott Brison. He says that would favour children from wealthier families. Those who are poorer may not be able to afford to work for nothing and so would not get the work experience and have a disadvantage on the job market.
The Canadian Intern Association is working to raise awareness about the issue and is lobbying politicians to try to get them to take action on the matter. Langille noted the governments of the provinces of Ontario and Saskatchewan are considering measures to limit unpaid internships. He would like the federal government to do the same.