The federal government has just listed three species of bats in Canada as being "endangered".
Bat populations in eastern Canada have been devastated by a fungus known as "white nose disease".   It first appeared in New York state in 2006 and then spread to Canada's maritimes and then westward into Quebec and Ontario. Researchers say some colonies have suffered a 90% loss or more.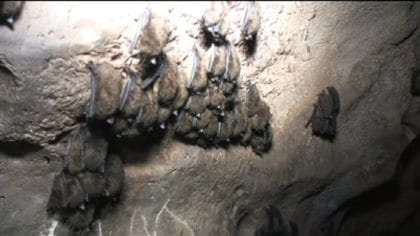 This week the government named the little brown bats, northern long-eared bats, and tri-coloured bats as being endangered.
This will protect bats on federal lands, but scientists say more efforts need to be taken by the provinces.  Ontario, New Brunswick and Nova Scotia have already listed these bats provincially under their endangered species acts, but not in Prince Edward Island.
The white nose fungus grows on the fleshy exposed skin such as around the nose and muzzle, hence "white nose" disease, although it also appears on the wings.  It irritates the bats and wakes them from their winter hibernation causing them to lose critical energy resources, leading to weakness and death.
Because bats consume vast amounts of insect pests, there could very well be an increase in mosquitoes and other flying insect populations in coming years. Farmers have expressed concerns that without bats, insect damage to their crops will increase requiring greater use of insecticides.
White nose fungus is easily transmitted within a colony and there is virtually no way to fight it. Bats reproduce very slowly so a devasted colony could easily die out completely, or at best take years to recover.
Scientists say to guard against people inadvertently spreading the disease, they should stay out of caves where bats dwell.
Interview with Brian Forbes  Director, New Brunswick Cooperative Fish and Wildlife Research Centre