On the occasion of the 70th anniversary of the liberation of the Auschwitz Nazi death camp, a tiny bit of good news for Holocaust survivors and descendants in Canada.
In 2011, a memorial to a dark moment in history was unveiled at Pier 21 in Halifax, the then typical entry point for immigrants to Canada.
It was here that a ship full of Jewish refugees escaping Nazi Germany would have landed in safety in 1939, had they been allowed to dock.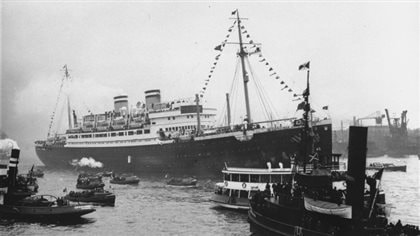 The memorial called the "Wheel of Conscience" was created by Polish-born American architect Daniel Libeskind, to commemorate the tragedy of the ship, SS St Louis.
The clockwork-like memorial mechanism broke last summer and it was sent from Pier 21 to Toronto where it was repaired. It was supposed to be returned but ended up in storage instead.
Apparently there was an effort to find a new location for it in Toronto, however in light of those rumours the Canadian Jewish Holocaust Survivors and Descendants sought its return to the museum at Pier 21 in Halifax, where the St Louis would have landed.
The Canadian Museum of Immigration at Pier 21 announced late last year that it was working with entre for Israel and Jewish Affairs to find an appropriate location for it. The museum said however, it can't confirm anything yet until it is sure the mechanism can function in an outside environment, but that the memorial will be returned to Halifax.
In May 1939, almost 1,000 Jews had managed to flee Nazi Germany aboard the ocean liner. They had been given visas for Cuba, but when they arrived about a week later, they found Cuba had changed it's mind.  Ordered to leave Havana harbour, the ship sailed up the US east coast where all ports refused entry.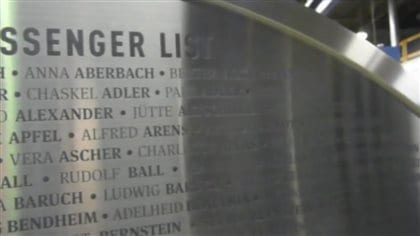 Two days out from Halifax, the captain radioed for permission to dock but was also refused by Canadian authorities.
The ship was forced to return to Europe where some passengers were accepted by Britain, and survived, others were landed in Belgium, France, and Holland. Some 532 were trapped when Germany invaded, and about half were killed in the camps.
(Other ships in Cuba or headed there in 1939 carrying Jewish passengers seeking refuge were also denied by Cuba- SS Orduna, SS Flandre, and SS Orinoco).
Youtube uploaded by Urban Toronto-  Daniel Libeskind's memorial to the Jews who fled Nazi persecution on board with M.S. St. Louis in May 1939, but who were turned away by Cuba, the U.S., and Canada. This unveiling was at the workshop of Toronto fabricator Soheil Mosun Ltd., prior to the memorial's January 20th unveiling at its permanent home in Canada's Immigration Museum at Pier 21 in Halifax, Nova Scotia.