Led by Sir John Franklin, a three-time experienced Arctic explorer,  the 1845 mission of the two ice-strengthened and heated Royal Navy ships, HMS Erebus and HMS Terror, was to complete passage and mapping of the fabled "Northwest Passage".
However, this fourth trip was to be Franklin's last, as he, the 128 crew, and the two ships were never seen again, in spite of a massive, multi-year search missions in the immediate years following, and in subsequent decades.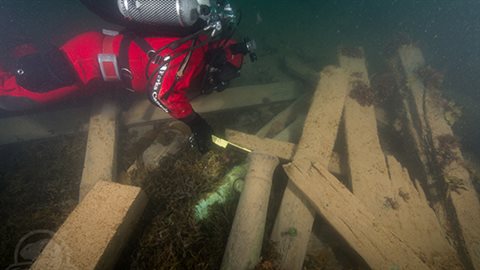 In recent years, Canada had taken a concerted high-tech effort to find the ships. Somewhat by accident, one of them was found in September last year and later identified as HMS Erebus.
Weather allowed only two days of diving by Parks Canada marine archaeologist divers at the time..
Next month however, a major military exercise in the north will combine military and archeologist divers on an extensive effort to further map and document the wreck.
In conjunction with Op Nunalivut, specialized military divers and marine archeology divers from Parks Canada, will together dive on the wreck of HMS Erebus to conduct further documentation and determine its state.
Canadian Navy Lt.-Cmdr. Stephan Julien said at a joint Parks Canada-Canadian Armed Forces press conference in Ottawa, March 6.  "We picked the month of April because at this time, it is likely that the ice will be thickest," he said.  "We're looking at approximately seven feet [two metres] of ice that we're going have to drill in order to conduct the diving operations.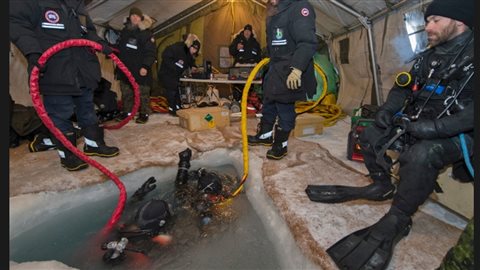 Diving under the ice in a case like this has many advantages. The ice acts as a barrier to surface weather conditions so that waters around the wreck are more calm which means visibility will be better.
The ice's stable platform also allows diving teams to use "specialized equipment, that normally underwater we wouldn't be able, or it would be more difficult to bring because we would need a large vessel," Lt.-Cmdr. Julien said.
"On the ice, we can bring in that specialized equipment, establish a camp directly over the site itself and extend our diving hours," he said.
The divers will record detailed three-dimensional exterior and interior views of the wreck using laser technology.
QUICK FACTS
 Op Nunalivut is an annual military operation conducted annually since 2007 in Canada's North. It provides an opportunity for the CAF to:
assert Canada's sovereignty over its northernmost regions;
demonstrate the ability to operate in the harsh winter environment in remote areas of the High Arctic; and
enhance its capability to respond to any situation in the Canada's North.
It also allows the Canadian Armed Forces to provide meaningful support to scientific research in the Arctic, and to demonstrate interoperability in the High Arctic with military allies and other Canadian government institutions.
The initial discovery of a ship belonging to the Franklin Expedition, made by side-scan sonar towed from the Parks Canada research vessel Investigator, was confirmed on September 7, 2014, using Parks Canada's remotely operated vehicle. On September 30, 2014, it was confirmed that the ship is HMS Erebus. HMS Erebus was a Hecla-class bomb vessel constructed in 1826. The vessel was named after the dark region in Hades of Greek mythology called Erebus. Since 2008, there have been six major Parks Canada-led searches for the lost Franklin Expedition ships, pain-stakingly covering many hundreds of square kilometres of the Arctic seabed. The discovery of the wreck and artifacts was made possible with the use of Inuit traditional knowledge and modern technology. The southern region was identified as a target search area as a direct result of 19th century Inuit oral testimony describing a shipwreck to the south of King William Island. The wrecks of HMS Erebus and HMS Terror are designated together as a national historic site of Canada – the only such 'undiscovered' national historic site until the discovery of Erebus in September 2014. –