Canadians are being urged to write letters to the government and its scientists asking about the results of scientific research. "This campaign responds to an urgent need for Canadians to become aware of some very serious cuts to science," says Natasha Myers, director of the Institute for Science and Technology Studies at York University and a leader of the Write2Know project.
Governance 'organized around non-knowledge'
Federal scientists are not free to communicate their results to the media and to the public, she says. The government has closed libraries and archives and has shuttered several research programs. "We're facing some very significant moments where governance in Canada is being organized around non-knowledge. There's an encouragement not to know about the quality of air, the quality of the water, the quality of the soil.
"There's a moment in Canada right now where it is in the government's best interest and perhaps in industry's best interest not to actually know about the effects of some of the massive industrial transformations to our landscape," says Myers.
Listen'Who controls what we know?'
A coalition of scientists, academics, and activists joined in 2014 with a stated aim of challenging "the fraught politics of evidence in Canada today."
"I dreamed up this project because I saw this as an opportunity for scholars… to get interested in the politics of knowledge: What do we know, what don't we know and who controls what we know and don't know," says Myers.
The campaign has set up a website which offers eight sample questions that Canadians can ask of government. They were formulated after much research and focus on topics such as the environmental effects of oil sands development, the impact of marine plastics, and the murders and disappearances of aboriginal women.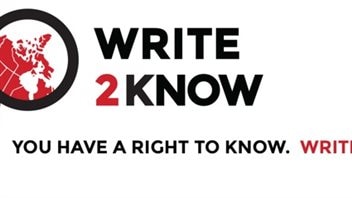 Sample letters offered
Sample letters can be edited and personalized by individuals and there is advice on how to send them directly to the websites of government departments. The site also offers a step-by-step plan for people to formulate their own questions on other topics of concern to them and their communities.
The campaign aims to support federal scientists who Myers says have been "muzzled" by the government and who have not been able to transmit results of their research to the public. Organizers also hope people will pressure political parties to discuss issues of science during the election campaign expected this fall.