In terms of its population, Canada is ageing. There are now more people in this country who are over the age of 65 than there are under the age of 15.
Canada now joins the ranks of some 17 other nations with the establishment this week of its first "longevity centre" which is being housed at the University of Ottawa Faculty of Health Sciences
Margaret Gillis, who has been active in the federal government for some 30 years in health, social, and age-related issues, is the founding president of the International Longevity Centre Canada (ILC)
Listen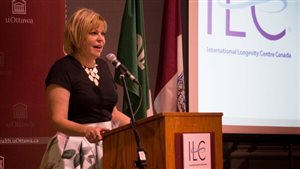 The new ILC Canada will join the international organization in its goals to understand issues related to ageing and longevity.
Such issues as health and well-being,  contributions and place in society, innovations, difficulties faced by seniors, and other issues relating to the Canadian situation will be researched and discussed by the centre and shared with the international network. The international network will in turn share its studies and information such that all may benefit from new and helpful ideas and statistical data.
The Canadian centre, in addition to performing its own research and gathering appropriate research from the University of Ottawa, will use this information to provide policy suggestions to government and to industry.
In  announcing the new organization Margaret Gillis said, "Currently, there is no organized national body with the vision and mandate that ILC Canada will have to actively engage and align key stakeholders and experts on aging with the ability to network, share knowledge and strategize in order to cohesively impact policy."
Funding will come from private industry, individual donors, and from government.
As the hosting location and partner for the new centre,  Hélène Perrault, dean of the Faculty of Health Sciences at the Univeristy of Ottawa said, "Together, we will not only advance knowledge on issues related to enhancing quality of life across the lifespan, but also join a network of international leaders to create a forum for knowledge exchange around innovative interventions and their application in the professional preparation of future health care workers and policies makers".
The new Canadian operation will join the International Longevity Centres  as a valuable resource for policy makers, governments, industry, academic institutions and other stakeholders on matters pertaining to healthy active ageing.