Bats are dying in huge numbers in five Canadian provinces and the rest of eastern North America, but new research may eventually help counter what's killing them.
It's estimated that white-nose syndrome has killed 5.7 million bats in North America. It is caused by a fungus that penetrates their skin when they hibernate, causing dehydration and burning fat they need to survive the winter.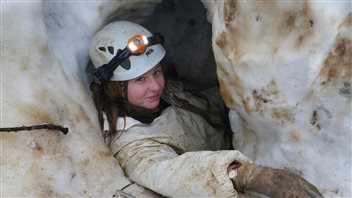 Bats provided powerful pest control
North American bats eat insects, including bugs that attack crops and trees. One study suggests they used to provide three to 53-billion-dollars-worth of pest control annually in Canada and the United States.
A bacterium called Rhodococcus rhodochrousin was found by a researcher in the U.S. who was looking for a way to inhibit fungus growth on bananas.  He wondered whether it would inhibit the fungus that causes white-nose syndrome, and discovered that it did.
Experiment promising, but…
Bats were taken from caves into a lab, cooled and left for 24 hours beside petrie dishes containing the bacteria. After their return to the caves, they appeared more resistant to white-nose syndrome.
"Of course, it's not logistically feasible to take all of the bats continent-wide and give them this kind of treatment," says Karen Vanderwolf, a bat conservation specialist with the Canadian Wildlife Federation. "But we're hoping we can deploy the bacterium, or at least the volatile chemicals the bacterium produces in caves."
Listen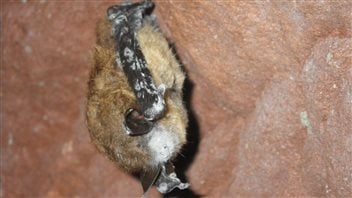 Ecosystem must be considered
"But of course this leads to all sorts of other questions for instance, what effect is this bacterium going to have on other organisms in caves. Because certainly, the cave ecosystem is made up of multiple flora and fauna…and we certainly wouldn't want to harm those other species," says Vanderwolf.
So, more research is needed before conservationists can act on the new research.
Some bats are resistant
Meanwhile, some remnants of bat populations in New York have survived so there is hope some of the animals are resistant and colonies can rebuild. It is however a very slow process, because only healthy females give birth to only one pup per year. Research is ongoing into on how well reproduction is going among the survivors or white-nose syndrome.
Canadian and U.S. scientists work closely to try to solve this problem plaguing bats in both their countries.