He was handsome, strong, a real outdoorsman, a brilliantly talented artist, and mysteriously dead in the prime of life, Tom Thomson's story could not be more intriguing.
Called by some as Canada's Van Gogh, or the painting version of Keats, (along with other accolades), his works now command some of the highest prices in Canadian art.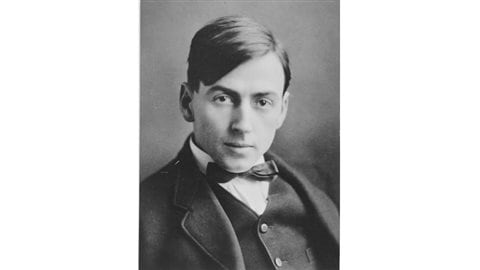 Born on an Ontario farm in Clarement in 1877, he was last seen alive (apparently) on this day, July 8, 1917 paddling away from shore on Canoe Lake in Ontario's Algonquin Park.
He is known now as Canada's most iconic painter, who in addition was a major influence on later painters who themselves are considered iconic Canadian painters, the Group of 7.
In a series of odd jobs, he begins some sketching, later taking some art studies, and still later painting in his late 20's and early 30's.  At this point he meets with other artists who would later become members of the Group of 7.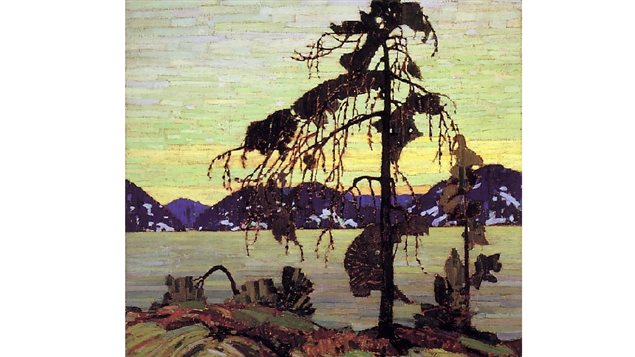 From 1910 and onward, he starts to travel to more wilderness regions of Ontario to paint.  By 1912 he has decided to paint full time in the summers in these semi-remote areas, often camping in the vast Algonquin park and around Canoe Lake, sometimes working as a park ranger, and guiding, returning to Toronto in the winters.
People now are beginning to recognize his dramatic new painting style highlighting the beauty, sometimes stark, of the Canadian wilderness.
On July 8, 1917 now aged 39 he is reported to have last been seen on Canoe Lake.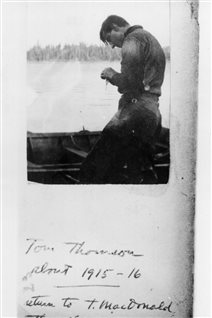 His overtuned canoe was found later without his favourite paddle, and the body was found floating on the surface 8 days later, with a "bruise" in the temple, and a broken fishing line wrapped several times around his leg.
Normally that would seem suspicious, but his death was quickly ruled accidental with the suggestion that he fell in the canoe hitting his head, falling overboard and drowning.  This is also strange for someone who was known to be such an expert canoeist and good swimmer, and on a relatively calm day.
The mystery of his death was also increased by the actual whereabouts of his body. Buried at Canoe Lake the day after the body was found, his family requested it be removed to the family plot in Leith Ontario.
But rumours persisted that the undertaker was loathe to dig up a decaying body, and instead sent a sealed casket (presumably weighted) to the family.
Decades later in 1956, a group fuelled by some alcohol, dug up the skeleton at the burial site. The remains were photographed, and officials initially determined to be that of a younger "Indian", and not Thompson. The decades old mystery still intriguing, some years later another analysis of the skull and teeth determined that the verdict of an "Indian" was highly doubtful and that Thomson's body was indeed most likely still at Canoe Lake.
While that may or may not have settled the whereabouts  of the body, it doesn't explain the mysterious death in what was at the time, still a rather remote area of Ontario and in a country at war with many other important issues.
Suicide over a love interest, or debts which is sometimes given as an reason are both extremely unlikely, as is the original coroner's verdict of accidental death.
Murder seems more plausible, and several possible scenarios have been offered.
One theory is that during the night of July 7 at Mowat Lodge after heavy drinking  Thomson got into an argument with Shannon Fraser who owed him money.  Thomson was knocked down hitting his temple on the fireplace andiron.  The body later taken to the canoe, towed out and dumped from his canoe which was left in the calm lake. The body possibly weighted and attached to a fishing line.
It is possible that the body was originally not weighted and came up in the typical two-three days as a body bloats… but  perhaps was spotted by the killer and a weight then was then attached and sunk again, only coming up several days later to be spotted by a Toronto doctor out fishing.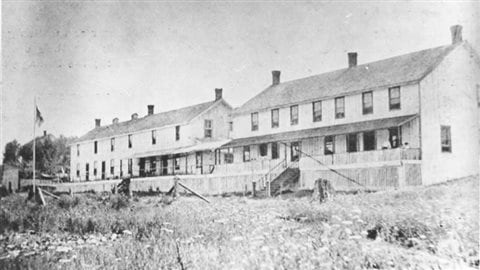 That theory however goes against another eyewitness who says the Thomson and Shannon were seen together walking towards to water on the morning of the 8th,  and that he paddled out around midday for a couple of hours of fishing. He paddled out of sight from Mowat Lodge around some islands sometime after 12;30.
Now, another story is that the bruise on Thomson's temple looked like it could have been made by a paddle, and that the murderer was Thomas Blecher with whom Thomson had previously argued. It was Blecher who proposed the theory of suicide repeating it as late as 1931.
Thomson's favourite paddle was never found, and part of that theory is the killer burned it to avoid finding the "murder weapon".
The original inquest failed to consider facts that for a drowing victim there was no water in the lungs and that traces of dried blood from the ear suggest death sometime before entering the water, and his watch was stopped only  a few minutes after one o'clock, which would have been only a little after the time it would have taken him to paddle around the islands and  out of sight of Mowat Lodge, which was the place where his canoe and later body were found., again just a few minutes of paddling away from the lodge.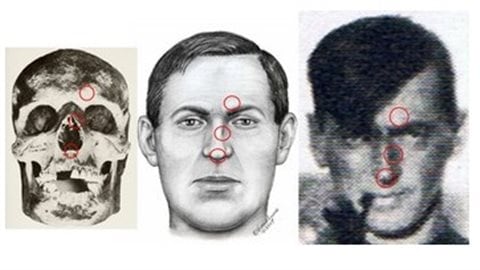 What may or may not confound the mystery is that the skull from the grave at Canoe lake had a round hole in the temple, which some people said was more akin to a bullet hole, though no bullet was found in the skull in 1956.. Falling on the andiron, may have created such a wound…but not the blade of a paddle, although perhaps the handle if swung hard enough might do so.
As we near the 100th anniversary of his death, it is unlikely the truth will never be known, and so the intriguing and  mysterious untimely death of a man who went from relative obscurity to become one of the most widely known and imitated painters of Canada, remains.
From the White Pine documentary; West Wind: The Vision of Tom Thomson