Stores should stop placing sugary snacks and drinks beside their check-out counters, says the Center for Science in the Public Interest, a non-profit based in the U.S. which researches and promotes nutrition and good health. Consumers and their children there and in Canada face a wall of snacks as they wait three to five minutes to pay in grocery stores and in other stores as well.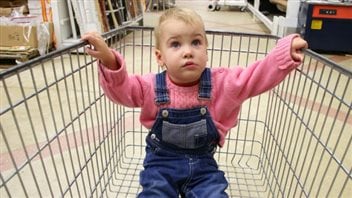 Decisions weaken resolve, says group
Shoppers choose from between 30,000 and 50,000 items in an average supermarket, according to the CSPI and, by the time they get to the cash, they have less will to resist.
"I like to think of will power as a muscle that can fatigue with use," says Jessica Almy, a lawyer with the group. "And at the end of a long shopping trip, it certainly gets fatigued by all the decisions we have to make and all the times we have to say 'no.' And then we find ourselves waiting to pay at the till. ..it's very easy for us to give in given that it (snack food) is right there, it's ready to be purchased and consumed, and we're a captive audience."
It's even worse when we are with children, says Almy, and have already said no to them several times.
Listen
Less resistance at check-out
About 5.5-billion-dollarsworth of food, drinks, and other products are sold from checkout aisles at supermarkets in the U.S., estimates the CSPI. The numbers are lower in Canada, but food companies here too, pay princely sums to have their products placed in this premium location.
Research by the CSPI suggests that even when consumers resist the temptation to buy sugary, salty foods in the aisles, they may give in at the cash. The calories add up and that can put their health at risk, argues the group.
'We would love…guilt-free checkouts'
CSPI is calling on grocery stores to stop placing these products at checkout counters, and other stores to stop stocking them entirely. Almy suggests that instead, grocery stores should stock things like batteries, hand sanitizers, umbrellas or healthy snacks. Almy notes that three retail chains in the U.K. have done just that.
"We would love to have guilt-free checkouts where everything that's in the check-out aisle is something that supports people's health."
Take a list, go early
Until such changes are made though, Almy suggests shoppers have a list to reduce the number of decisions they have to make. They could also shop early: "It's easy to avoid temptation when we're well-rested, we feel good, and everything is going right.
"It's much harder at the end of a day when we've made a series of decisions at work or in your home life and you're worn down or you're stressed or you're tired or you have a child in tow. Those are the times you're most likely to make decisions that are against your own best interest.
"But the reality is that impulse buys will continue to happen until stores change their practices."