Heat and humidity in Canada's largest city and much of southern Ontario and Quebec has temperatures soaring into the mid-30 Celsius range with humidex values near 40 C.
Environment Canada issued heat warnings throughout most of southern Ontario and Quebec. The capital, Ottawa, was also forecast to reach 32 C today with similar daytime highs in Windsor, Hamilton and London, which are all expected to hit at least 31 C.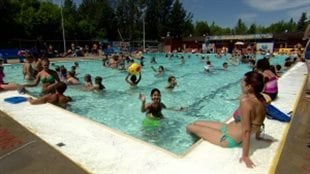 The City of Toronto issued its own heat alert on Sunday, which is now an extreme heat warming today.  At least eight public pools are open until 11:45 tonight to allow people to cool off, as well as community centres and halls with air conditioning open to provide some cool shelter for those who may not have their own.
Central Canada was dealing with the record warms spell last week, but it's a surprise for many in the east in what has been a generally cool summer.
"It's a combination of the heat and the humidity," said Arnold Ashton, a severe weather analyst with Environment Canada. "It really packs a punch. When you get two or three days like this, it really starts to wear people down."
Ashton said temperatures will dip slightly on Tuesday, but it will still be hot. "It will give us a little bit of an easing," he said. "I wouldn't call it relief but it will be more like 29 C. There will be more cloud and maybe the odd shower."
Ashton said the heat is hardest on those who work outside, the elderly, infants and those with pre-existing health conditions.