As young Canadians return to college and university, parents may be alarmed by news that more than 60 per cent of 18-24 year olds consistently drink above national alcohol guidelines. A new study by researchers at the University of Victoria's Centre for Addictions Research used government statistics and corrected for under reporting to find that nearly 40 per cent of all Canadians exceed the limits.
How much is too much
Canada's Low-Risk Alcohol Drinking Guidelines were developed by a team of domestic and international experts and released in 2007. They recommend that women have no more than two standard drinks per day or 10 per week, and men no more than three a day or 15 per week. One extra drink per week can be consumed on special occasions.
'We need to be concerned'
"We need to be concerned about this," says Catherine Paradis, a senior research and policy analyst with the Canadian Centre on Substance Abuse. Experts like her knew many Canadians exceeded the guidelines, by were surprised at just how many.
Listen
"As science progresses we do know now, even more than before, that there's a direct link between chronic drinking and chronic disease." These include cancer, diabetes, heart disease and a recent study linked excessive drinking with breast cancer in young women.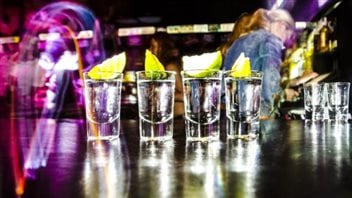 Excessive drinking poses many risks
"With young people we are more concerned about accidents and injuries," says Paradis, noting that every year young people are hurt or die as a result of drinking and driving and other succumb to alcohol poisoning. Other may engage in risky behaviour like unprotected sex or be victims of violence while inebriated.
Many Canadians are unaware of the guidelines, says Paradis. Across the country no more than 20 per cent are, with the exception those residing in the province of Quebec. Nearly 50 per cent of them have heard about the guidelines, according to government statistics.
Limit aggressive marketing, says expert
"So how could people drink according to some guidelines they've never hear of," she asks. She also hypothesizes that many people, particularly the young, are vulnerable to aggressive marketing of alcohol in bars and discos, such as two-for-one events, reductions in the cost of drinks on ladies' nights, and shooters games, where drinkers challenge each other to down repeated shots of alcohol.
Paradis suggests it's time to limit aggressive marketing of alcohol, to raise awareness about the safe drinking guidelines and that governments make sure Canadians who want to moderate or stop drinking altogether have access to the support they need to do so.