Refugees risking their lives to get to Europe from war-torn Syria have become a major issue in Canada's federal election campaign. Several rallies demanding Canada increase its aid and acceptance of the refugees crowding into many countries in Europe, were held over this holiday weekend. Many of the participants chanting in unison, "Say it loud, say it clear, refugees are welcome here,"
"Say it loud, say it clear, refugees are welcome here,"
Rose Davies is a student at Brock University in the Niagara region of southern Ontario. She is one of the organizers, associated with 'No One is Illegall', getting ready for a rally in front of Conservative candidate Rick Dykstra's constituency office, this afternoon.
Listen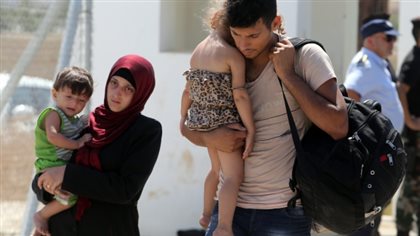 Rick Dykstra was secretary to former Immigration & Citizenship minister, Jason Kenney.  Davies says Dystra is familiar with the issues and the files. "We're out there to call for more refugees, to accept more refugees to the region, into Canada." She says in comparison to what other countries, such as Germany, are doing, Canada should be doing more.
On the campaign trail today, Conservative leader, Stephen Harper, reiterated his policy saying there will be no changes to Conservative policy. The plan is to continue to take 'the most vulnerable, not first come, first serve, and to assure the security of Canadians". and there will be no increase to the number of refugees welcomed: 10,000 over the next four years.
Liberal leader, Justin Trudeau, has continued his call for a meeting with the candidates from the other two main parties, to discuss the crisis, saying he doesn't want to wait until election day, October 19th, to begin to make plans to help the Syrian refugees.
New Democratic Party Leader, Thomas Mulcair, was at the 144th annual Labour Day Parade in Toronto today, and he said only Stephen Harper can do something at present, and he has tried to arrange to speak with the Conservative candidate.  Mulcair is proposing the appointment of a commissioner to deal specifically with the issue of Syrians fleeing the chaos in their country.