Uber was the subject of heated debate in Toronto today. Canada's largest city could be the first in North America to put the brakes on Uber's growth by regulating the ride-sharing service.
"Uber is here to stay."
With hundreds of taxi drivers, in bright yellow T-shirts, outside in Toronto's Nathan Philip's Square, Mayor John Tory and the Councillors inside City Hall, were trading barbs and ideas about how to manage the conflict between the traditional, heavily-regulated taxi service, and the phone app, from San Francisco that can provide a ride, cheaper.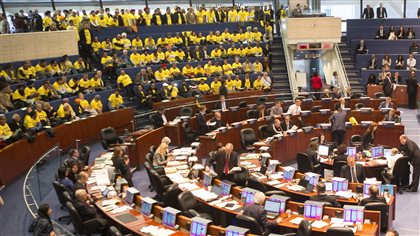 Former Mayor, Rob Ford demanded to know if current Mayor, John Tory stood by his statement that "Uber is here to stay". Mayor Tory said yes, and the time had arrived to regulate the ride-sharing service, with the establishment of a new agency..
Toronto has about 15,000 drivers for Uber serving at least 300,000 clients. Today during the debate, an on-line campaign elicited support from 52,000 of those clients.
Edmonton's City Council is watching the developments in Toronto with interest. Last week the two Mayors got together to discuss the challenge Uber poses.
At an Edmonton City Council meeting on the issue, taxi drivers attended, and protested by removing their shirts, saying the city will take the shirts off their backs, if they legalize Uber.
The plan is to legalize the service, and by licensing drivers, the necessary insurance and criminal checks will help even the playing field. Taxi companies are not supportive.
Taxi drivers in most Canadian cities claim they are losing thousands of dollars in income, and having to work longer hours to make ends meet. All of this while being subject to regulations that demand heavy licensing and insurance payments.