The most unforgettable stories of 44 of Canada's top journalists have been compiled in book called That's Why I'm a Journalist.
"I wrote it to show people what real reporting is, what real journalism is and what real journalism can do—the power of journalism," says Mark Bulgutch, a former senior producer at Canada's public broadcaster, CBC. He now teaches journalism at Ryerson University in Toronto.
Listen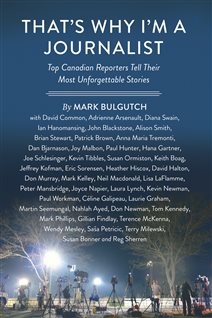 Worry about being kidnapped
In one of the stories, reporter Paul Hunter talks about interviewing neighbours who witnessed a shootout after the Boston marathon bombing in April 2013. Terence McKenna talks about the worry of being kidnapped while on the job. Award-winning reporter Adrienne Arsenault recalls bringing together old friends who had been separated by the Israeli-Palestinian conflict.
Bulgutch says television news does not cover important stories the way it did 20 years ago. Instead, he says, it serves up what people want—chips and soft drinks as opposed to meat and potatoes. And he says anyone with a cellphone cannot do the job of an experienced reporter. So-called citizen journalists are witnesses, not journalists, says Bulgutch.
Having a cellphone, does not make one a journalist
"If I was having surgery or you were having surgery tomorrow and they wheeled you into an operating room and there were four people standing there with scalpels, would you think they were all equal if only one of them was a doctor?"
The closure of foreign bureaus by many news networks also bothers Bulgutch. Journalists who live in the places from which they report have a much better understanding of the context for the stories they cover.
'You turn a blind eye'
"A society that doesn't believe in real journalism—in reporters going out, seeing things, and then bringing back the news and the story of what they saw—if a society doesn't support that you become really insulated, you don't know what's happening in the rest of the world. You turn a blind eye to it," says Bulgutch.
"A society without reporters is like an election without voters. There are countries that have elections without voters and I don't want to live in any of those places."