Sewage, and the 8 billion litres of it to be dumped into the St. Lawrence River from Montreal. has now become a federal election issue. The city maintains the sewage release must take place to allow urgent repairs necessary to improve the city's ageing infra-structure. The federal government has put a hold on permission.
"It is a major engineering challenge" 
Environment Canada is delaying permission in what some say is an election ploy to boost the former ruling Conservative government's green credentials.
Yesterday, federal Environment Minister, Leona Aglukkaq issued a statement  in which she asks her department to "explore options to prevent this release" while gathering more information about the plan's environmental impact. Montreal Mayor Denis Coderre has issued a deadline of three days to meet and resolve the issue.
"We don't need to play politics on the back of Montrealers," Coderre said at a news conference in Montreal hours after the federal government demanded that the city suspend the sewage dump. "We are dealing with a government that has decided to use a situation that is essential for Montreal and to play politics."
"They have this file in their hands [since] September 2014 … We asked, 'Do you have more questions? Do you have more questions?' They had no questions," Coderre said. The federal election, on October 19th, takes place the day after the the sewage release was to begin.
"This is one of the largest primary treatment plants in the world and if those pumps go down we're faced with much more difficult situations"
Sarah Dorner is associate professor in the department of Civil Geological and Mining Engineering at Montreal's Ecole Polytechnique, and she holds a Canada Research Chair in Source Water Protection. She says, "this is a repair on critical infra-structure". And she warns, that if it does not take place soon, it could be the beginning of unplanned discharges that will not allow for the necessary precautions.
"Other municipalities, all across Quebec, also sometimes are faced with these critical infra-structure repairs, and get permission to just discharge their waste water.  So the only difference is that it's a large piece of critical infra-structure in the largest city in Quebec."
Listen
She says the alternatives, such as 40,000 truck trips through neighbourhoods in Montreal, or bringing boats to the 26 discharge points, which would also mean building docks, are not economically feasible. The city estimates it would cost $1 billion to build a temporary diversion or storage area for wastewater.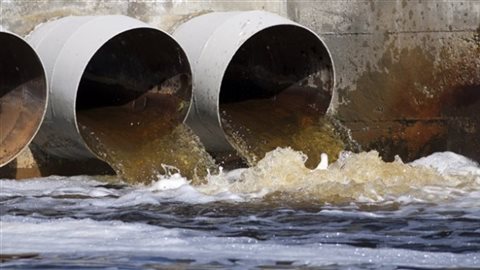 The city of Montreal basically treats half the waste water from the entire province of Quebec according to Dorner. She is concerned about the microbial level in the water, but it will be monitored and most experts agree that the effect of this large amount of raw sewage should be minimal within about 5 days.
"The solution is not a great one, nobody's happy about having to discharge this volume of sewage"
Dorner concedes it is a most unpleasant reality, and understands the opposition, but she explains that the workers involved in the project must be protected. "We have to remember that there are people that go in there and work in this and it's not safe for them to work when there's sewage in there, so it has to be dried, they have to work safely."
"I'm not the kind of person who would say dilution is the solution to pollution"
Dorner says most people won't notice any difference during the process,  "If it wasn't the month of October I wouldn't hesitate to bathe in the water, maybe I'd give it five days for my own piece of mind but I don't think the effect would be noticeable after that." She explains that drinking water treatment plants have disinfection capacity and can monitor the situation to make sure the water is safe.