Conservative Party advertising targeting Chinese and Punjabi-speaking voters claims that Liberal Party Leader Justin Trudeau supports the sale of marijuana to children, the expansion of safe injection sites and the establishment of neighbourhood brothels. The attack ads include misleading claims about Liberal policies and community journalists say they are offensive.
'Insulting to the community'
"It is quite insulting to the community that the Conservative party might think that people can be manipulated," said Rattan Mall, editor of the Indo-Canadian Voice newspaper and website.
"It's all a matter of strategy, pretty sure Conservatives know that majority of Chinese are very concerned about marijuana and use this kind of message to scare people off to get them to continue to vote Conservative," said Wallace Chan, host of Open Line on Fairchild Radio.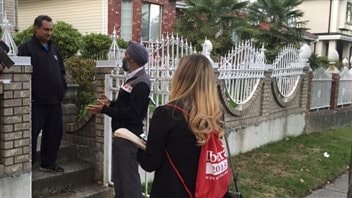 The ads are running in the western ridings of Richmond and South Vancouver, and in the Richmond Hill and Markham areas of Toronto. These are ridings with a large number of Chinese and Punjabi-speaking residents. They also are ridings that were held by Liberals and that the Conservatives hope to capture in what is what will likely be a very close election on October 19th.
'Absolutely not true'
Harjit Sajjan, the Liberal candidate for Vancouver South said the content of the ads "is absolutely not true. I find it very disturbing that the Conservatives would actually turn to a tactic that goes beyond their fear and divisive tactics."
Conservative leader Stephen Harper defended the ads in a written statement from his office.
Only in the last decade have conservatives managed to gain the support of ethnic voters who, in the past, mostly voted for the Liberal Party.