Canada's Conservative Party, swept out of power by the Liberal Party's tidal wave victory in Monday's general election, has begun taking steps to replace Stephen Harper as leader.
Harper announced Monday that he would step down as leader but will continue to sit as an MP. How long he will do so is the subject of much speculation.
The Canadian Press reports that the Tories are setting up a committee that will set rules of the upcoming leadership contest.
CP says three senior party executives have been named to the committee and will be joined by Tories from within and beyond the national council.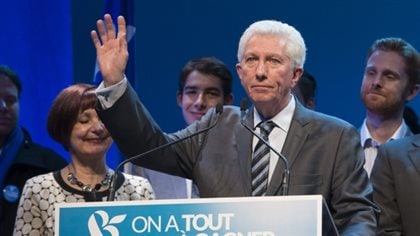 The Tories have not had to elect a leader since 2003, when they picked Harper.
Names being bandied about to replace Harper include Tony Clement, Kellie Leitch, Lisa Raitt and Maxime Bernier.
Meanwhile, Tom Mulcair says he plans to remain the leader of the New Democratic Party, despite the party's poor showing on Monday.
But that decision may not be in his hands. A leadership review is scheduled for Edmonton in the spring. If more than 50 per cent of the ballots call for a leadership election, it must be held within a year.
And Gilles Duceppe announced Thursday that he was stepping down as leader of the separatist Bloc Quebecois.
On Monday, the Liberals under Justin Trudeau, won 184 seats, an increase of 150 from their 2011 total. The Tories won 99, a decrease of 67, and the NDP won 44 seats, a decrease of 59.
The Bloc Quebecois won 10 seats, up from four in 2011, and 20 per cent support provincially.
However, that was the lowest of any separatist party–federal or provincial–in Quebec since the Parti Quebecois ran provincially in 1970.
Mr. Trudeau is scheduled to be sworn in as the country's 23rd prime minister on Nov. 4.