Stephen Harper and Justin Trudeau met Wednesday on Parliament Hill to begin the process of transferring power from Harper's Conservative Party to Trudeau's Liberals.
Trudeau won a healthy majority government in Monday's election, relegating the Conservatives to the Official Opposition.
He will be sworn in as Canada's 23rd prime minister on Nov. 4, the day he names his Cabinet, which he has has pledged will be comprised equally of men and women.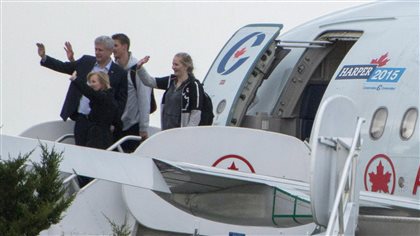 Behind the scenes, Trudeau is being briefed on upcoming visits to international summits such as the United Nations Climate Change Conference in Paris.
On Tuesday, U.S. President Barack Obama called Trudeau to congratulate him on his party's victory.
During the call, Trudeau informed Obama of his intention to withdraw from Canada's Mideast bombing mission against ISIL, a campaign promise.
Bruce Heyman, the U.S. ambassador to Canada, downplayed any talk of an early potential irritant over that decision.
Meanwhile, Kenjiro Monji, Japan's ambassador to Canada, said he hopes Trudeau will attend next month's G-20 and APEC summits.
They take place in Turkey and the Philippines the same week, starting Nov. 16.
Japan is especially eager to move forward on the Trans-Pacific Partnership.
Trudeau said is he "very hopeful" he will attend the two summits, but added his first priority is getting a government up and running.
Besides Obama, Trudeau has spoken with the leaders of Mexico, the U.K., France and Italy.