There seem to be two kinds of Canadians: those who hate winter and avoid going outdoors, and those who enjoy being outside and take pride in meeting the challenges of harsh weather. And that extends to cyclists.
Thousands of Canadians cycle in the summer and, increasingly, use bicycles to get to and from work. Most of them put their bikes away either when the temperature goes below freezing or snow begins to fall–anytime now. But there are growing numbers of people who cycle through the winter.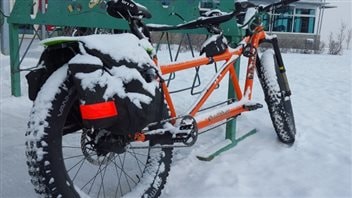 Easier than they thought
About 30 to 40 per cent cycle year round, estimates Tom Babin, the author of Frostbike: The Joy, Pain and Numbness of Winter Cycling. He says people who try it tell him they find it to be a lot easier than they thought it would be.
Disadvantages include slippery roads, poor visibility and streets made narrower as plows push snow to the sides before it is picked up. It gets dark early. It also gets very cold in most Canadian cities and, on a bike, it can be difficult to keep hands and feet warm.
'A certain level of bad-assery'
On the other hand, "It's quiet, the snow is falling — it can have really beautiful moments … and it's good for me, it gets me exercise, and it lets me see my city in a better way," says Babin.
And "There was a certain level of bad-assery to it," says Cassandra Drudi who started winter cycling during a transit strike in Ottawa in 2008. "It felt pretty amazing when you get to work and you're like, 'I completed a mission,' and it's something most people think is insane."