The humanitarian organization UNICEF hopes that virtual visits with vulnerable children will spur Canadians to donate more to help them. The Survival Gifts program allows Canadians to buy things like emergency blankets, water purification tablets, school essentials, vaccines, bed nets and nutritional products for refugee children abroad.
Canadians like the program. Last year, they bought 39,217 gifts at a total cost of $1.78 million which UNICEF said "made a significant difference in the lives of children in some of the world's most dangerous places." Recipients most in need include children from Syria, Central African Republic, Yemen, South Sudan and other countries.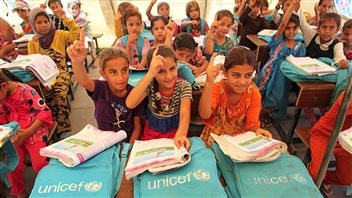 Donors can choose what to see
Now UNICEF Canada is offering donors a special viewing box which they can use with their smartphones to virtually visit the the children. UNICEF 360° is a series of films which donors can watch, but also turn their heads or their bodies to view whichever perspective they choose.
For example, the first film is about Sidra, a 12-year old girl from Syria, now living in the Za'atari refugee camp in Jordan. One can look at her speaking and then choose to look at a toddler coming in the door, or to scan the room. The technology is designed to provide a "deeply immersive perspective… on some of the world's most vulnerable children and their families," says the UNICEF news release.
'We wanted to put a human face to it'
"We wanted to connect Canadians with the children they're supporting around the world and to give them an idea of how those children live…and the challenges that they face," says Meg French, UNICEF Canada's chief of international programs and public affairs. "We wanted to put a human face to it so that Canadians would be moved and would give more."
Listen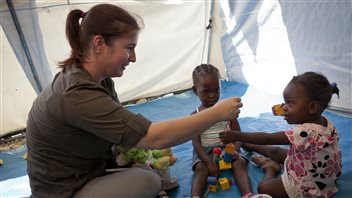 The film is "Clouds Over Sidra" was commissioned by the United Nations and was filmed a little over a year ago. Sidra is now almost 14. She goes to school and has a new sibling and cousin born in the refugee camp. She hopes to one day be able to return to Syria.