KB882 had a long service life, and then, a far less deserving fate, and finally enthusiasts are trying to give the historic plane a better future.
Of the over 7,000 built, this plane is one of only 17 survivors and KB882 is one of an even fewer number with actual wartime bombing service.
Flown in as a serciceable aircraft to the small airport at Edmunstan New Brunswick, the plane sat as an outdoor monument for decades, slowly deteriorating in the elements, winter and summer.
Finally, as the plane was declared to be on the point of no return. Immediate restoration was required  or it would very soon fall apart. Attempts were made to raise funds for the Canadian built plane, one of 430 built in Canada, but never seemed to achieve much.  It appeared that another heritage plane would soon disappear.
Then the Alberta Aviation Museum   stepped in. They would disassemble the Lanc and ship it the several thousand kilometres from eastern Canada to the museum in Edmonton, Alberta  in western Canada.  It's a very expensive process and the museum and those concerned with preserving history, are appealing to the public worldwide for funds in an online Kickstarter campaign. (click on photo bottom of story)
The campaign will run until December 9th 2015 with a goal of raising $88,244 (the aircraft number and the year it rolled off the assembly line).
"Warbird enthusiasts around the world have been watching and waiting to see what happens with this iconic aircraft," says Troy Kirkby, an Alberta Aviation Museum volunteer who is coordinating the online fund drive. "Many have said they would like to make a contribution to ensure KB882's future."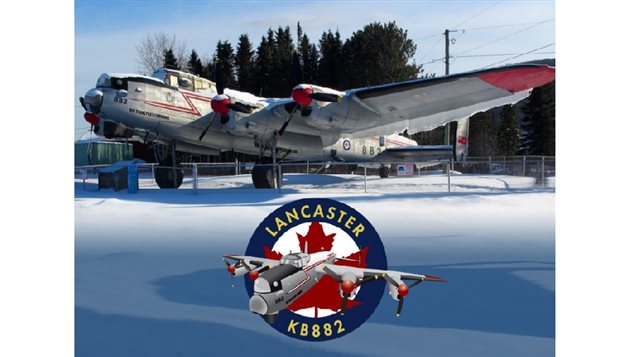 Indeed anyone in the world interested in preserving this historical artifact can contribute online.
Donors to the campaign will receive commemorative merchandise including artwork, t-shirts, pins and coffee mugs on top of their tax receipt (Canada).
KB882 is one of 430 Lancaster bombers built at Victory Aircraft Limited in Malton (Toronto), Ontario for the Allied war efforts. It flew twelve operational Group 6 RCAF Bomber Command missions over Occupied Europe in 1945, and was returned to Canada at the war's end. In the 1950's the aircraft was modified and put back into service by the RCAF for the mapping of the Arctic in Operation SHORAN, and Cold War reconnaissance missions including surveillance of Soviet ice stations. The aircraft was operated by 408 "Goose" Squadron, RCAF Station Rockcliffe (Ottawa), Ontario until 1964 when it was acquired by the City of Edmundston, New Brunswick.
Alberta Aviation KB882  Facebook
Save Lancaster KB 882 kickstarter campaign (click on photo below)