It was on this day in 1948 that the United Nations General Assembly  adopted a declaration spelling out a series of rights and freedoms to which all people should be entitled.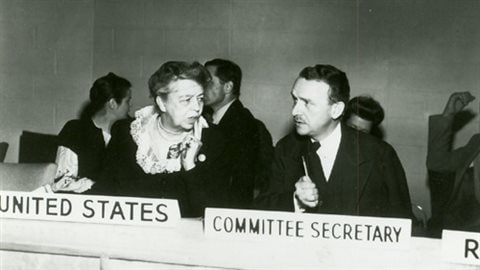 During the Second World War, the Allied powers had adopted a policy that they were fighting for and adopted in a UN Charter: freedom of speech, freedom of religion, freedom from fear, and freedom from want.
Postwar, those freedoms in the Charter were seen as too vague, and so the U.N. decided to create a Division on Human Rights to develop an improved declaration.
In 1946, Canadian John Peters Humphrey was appointed as the first director of the new division within the Social Affairs Secretariat.
A Commission on Human Rights was formed and was called upon to develop the project. The Commission was designed to be representative of the world community and consisted of members from 18 countries from all continents and was chaired in 1947 by Eleanor Roosevelt, widow of the late US President.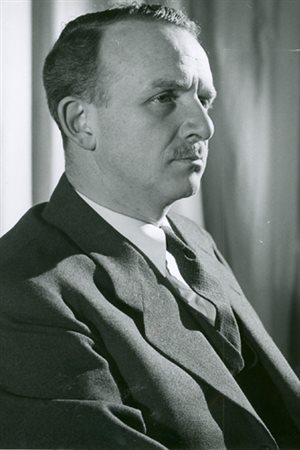 The new director, John  Humphrey had been a law professor at McGill University in Montreal and set about the task with zeal. His small staff in New York began collecting an exhaustive assortment of documents on human rights issues from around the world.
Humphrey then quietly set about creating the initial draft of 30 articles and is credited with being the main author of what has become a groundbreaking determination of fundamental rights. Over the course of several weeks he wrote several drafts. These were followed by dozens of meetings, and hundreds of resolutions on wording before the final draft was ready.
Surprisingly,  Canada abstained from voting on the initial draft of the document when it came up at the Committee stage in part because it appeared to infringe on provincial authority.  When the vote for the declaration in its final version came up at the General Assembly, Canada changed its position in light of probable abstentions from the Soviet Bloc.
In the end the USSR and satellites did bastion, primarily due to Article 13 allowing from freedom of movement inside a country, and freedom to leave a country. Saudi Arabia also abstained over conflicts with Sharia law: Article 18- the right to change religion, and Article 16- on equal marriage rights.  South Africa also abstained as several Artica
Thanks to the primary work of Canadian John P Humphrey has been influential in the writing of a number of national constitutions since 1948. It has been and is still used to exert moral pressure on governments when rights abuses are claimed and has been the basis for several additional UN international rights covenants.
Since the date of the signing, the United Nations has declared December 10, as Human Rights Day.
In 1984 his book "Human Rights and the United Nations: A Great Adventure" was published recalling his twenty year career with the United Nations.
UN Universal Declaration of Human Rights