Some western boaters out fishing for prawns on New Year's Day got a thrilling visit from two humpback whales and captured it on video, reports CBC News. Besides being stunningly beautiful, the Georgia Strait between Canada's western coast and Vancouver Island is rich in marine life. A tourism website for the province of British Columbia has 68 listings for whale-watching tours.
Kyle Noble, his family and their dog were in an eight-metre boat off the shores of Gabriola Island on January 1st when two humpback whales breached nearby and he taped it in amazement.
Whales 'playing hide-and-seek'
"They were playing hide-and-seek with us," Noble told CBC reporter Tamara Baluja. "They kept up popping up on different sides of the boat. They were within inches of us. We could have reached down and touched them…
"They were ginormous."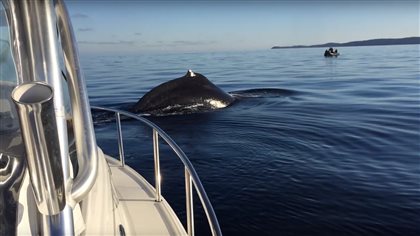 More humpback sightings
Whale-watchers and researchers have told CBC there has been an increase in humpback sightings around Vancouver Island. They believe the whales may be making a comeback since they were first protected in 1965.
CBC says there were an estimated 1,500 humpbacks in the North Pacific at that time. Ten years later, another study estimated the population might be up to 20,000.