Toronto hospital performs hand and forearm transplant
It is still a relatively new procedure worldwide with only a little over 100 such operations having been performed in several countries to date
This month surgeons in Toronto have performed the first such operation in Canada as a team of 18 surgeons and specialists performed the first hand and forearm transplant in the country in an operation at the Toronto Western Hospital.
It took 14 hours to complete the procedure on a 49-year-old female patient who had lost her own arm below the elbow several years ago in an automobile accident.
The preparation for the operation was extensive, indeed going back at least three years.  University of Toronto professor and surgeon at the Hospital for Sick Children in Toronto, Ronald Zuker, had established a committee to investigate the procedure and determine needs and appropriate specialists in conjunction with the University Health Network which operates four Toronto hospitals including Toronto Western.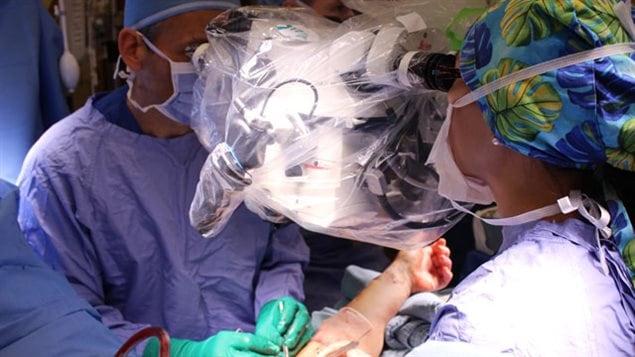 The highly specialized team and surgery was led by Dr. Steven McCabe of Toronto Western. He had previously been on a team in the US which had performed the first successful hand transplant in 1999.
Selecting the patient was also the result of an exhaustive year -long process requiring exhaustive medical, psychological, and surgical evaluation.
Before the actual surgery, the team spent a great deal of time in simulations of the procedure.
The surgery went well according to Dr.  McCabe, who, told reporters on Tuesday. "The hand has good circulation [and] she's had no medical problems since the time of the transplant."
For a transplant to be successful, the donor and recipient must have matching blood and tissue type, skin colour and tone, ethnicity, gender, and hand size.
Dr Zuker notes that there is only a very small window for a transplant to occur as muscle begins to detiorate after only 6 hours without blood circulation.
It will take some time before the nerves begin to grow together and no hand movement is expected for anywhere from three to six months, with improvements in movement over the next two years. The patient will have to take anti-rejection drugs for the rest of her life.
With what appears to be early success with this patient,  medical staff are already evaluating other potential patients.
Additional info- sources
UNIVERSITY HEALTH NETWORK VIDEO