A leaked United Nations report detailing potential war crimes committed by the Saudi Arabia-led coalition in Yemen is raising new questions about Canada's controversial plan to sell $15 billion worth of advanced armoured vehicles to the ultra-conservative kingdom.
In its final report to the UN Security Council obtained by Radio Canada International, a UN panel investigating the implementation of Security Council resolutions related to the conflict in Yemen says it has found "widespread and systematic" violations of international humanitarian law committed both by the Saudi-led coalition and their Iranian-backed opponents on the ground.
The Saudis and their allies – Bahrain, Kuwait, Qatar, United Arab Emirates, Egypt, Jordan, Morocco and the Sudan – launched a military intervention in Yemen in March of 2015 in support of President Abd-Rabbu Mansour Hadi who was ousted by Shia Houthi rebels aligned with Iran in 2014.
The ensuing fighting has destroyed large parts of Yemen, displacing more than two million people from their homes. Twenty-two million people, about 80 percent of the country's population, are facing severe food shortages, according to UN estimates.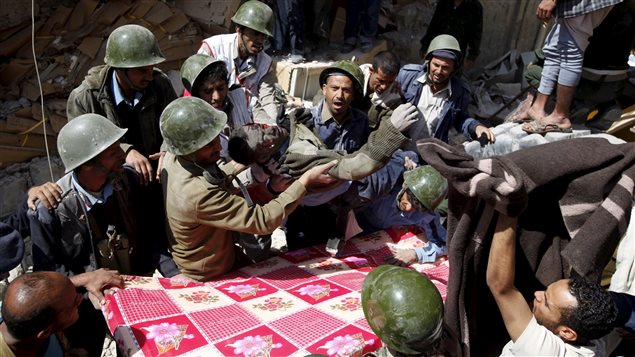 'Violations of international humanitarian law'
More than 5,800 people have been killed so far in the conflict.
The 51-page report, which has not been officially released yet, says 60 per cent of civilian deaths and injuries were caused by "air-launched explosive weapons."
"The panel documented that the coalition had conducted airstrikes targeting civilians and civilian objects, in violation of international humanitarian law, including camps for internally displaced persons and refugees; civilian gatherings, including weddings; civilian vehicles, including buses; civilian residential areas; medical facilities; schools; mosques; markets, factories and food storage warehouses; and other essential civilian infrastructure, such as the airport in Sana'a, the port in Hudaydah and domestic transit routes," says report, which recommends establishing an international commission of inquiry to investigate these violations of international humanitarian law.
"The panel documented 119 coalition sorties relating to violations of international humanitarian law."
The United Nations agency for children says, on average, eight children are killed or maimed every day in Yemen as a direct result of the hostilities.
"Nearly three quarters (73 per cent) of child deaths and injuries during the second quarter of 2015 were attributed to air strikes by the coalition and in 18 per cent of child deaths and 17 per cent of child injuries were attributed to the Houthi-Saleh forces," says the report. "All parties to the conflict have violated the rights of the child and committed grave violations against children during armed conflict."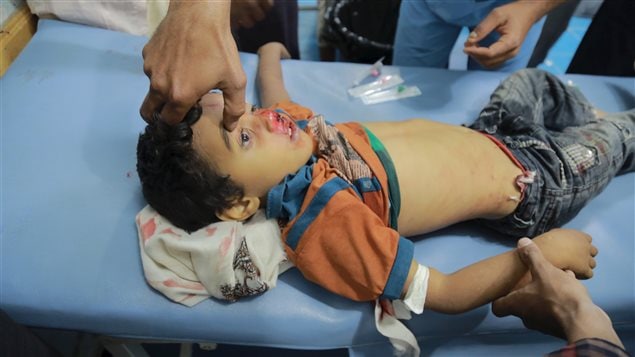 Payam Akhavan, professor of international law at McGill University and a former UN prosecutor at The Hague, said the report points to evidence of attacks against civilian populations that could potentially constitute war crimes.
"To the extent that these attacks are widespread or systematic, they could also constitute crimes against humanity," said Akhavan after reading a copy of the report obtained by RCI.  "There is clearly cause for serious concern and a need for a proper investigation, as recommended by the UN Panel."
Questions for Ottawa
The federal government has faced repeated requests to justify the shipment of weapons to Saudi Arabia.
Under federal export control rules the government must make sure that "arms sales are carefully reviewed and human rights considerations are seriously taken into account."
NDP foreign affairs critic Hélène Laverdière said she was very disturbed by the reports of the UN panel of experts and urged the government of Prime Minister Justin Trudeau to release the assessment done by federal officials prior to granting the export license for the sale of LAV 6.0 armoured vehicles to make sure that the weapons will not be used to commit human rights abuses or violations of international humanitarian law.
"It's all the more important for us to have the information what the current export permit entails and what measures did Canada take to make sure they wouldn't contribute to such acts," Laverdière told RCI.
Weapons prolifiration
There are also serious questions about whether Canadian-made weapons might end up in the hands of radical Islamist groups fighting on the side of the Saudi-led coalition.
The panel reported that "it also has seen footage of armoured vehicles similar to those used by the coalition being used by resistance fighters in Ta'izz, allegedly affiliated to a Salafist group calling itself 'Emirate of Protectors of the Creed.'"
"While the panel is not mandated to monitor the coalition's transfer of weapons to resistance fighters," says the report, "it wishes to draw attention to the risk that lax accountability measures on the part of the coalition and the legitimate Government of Yemen may have resulted in the diversion of weapons into the hands of radical groups and to the black market."
Officials at Global Affairs Canada refused to comment on this issue, saying they had not seen the full UN report yet. Canada Foreign Affairs Minister Stéphane Dion who's hosting his American and Mexican counterparts in Quebec City on Friday is also not available for an interview, they said.
"Canada has some of the strongest export controls for military and strategic goods in the world," said a statement by Global Affairs spokesperson John Babcock.  "Canada closely monitors the human rights situation in Saudi Arabia and consistently raises concerns regarding human rights in the Kingdom with senior Saudi officials."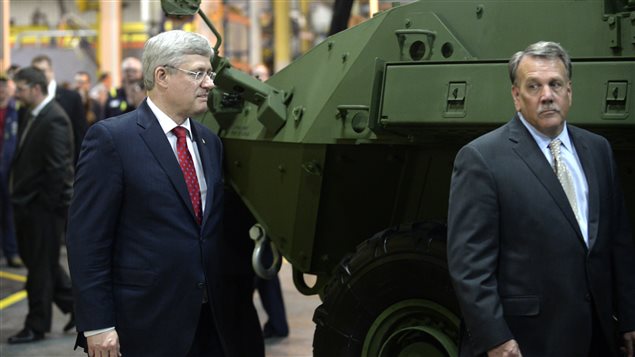 Well-paying jobs for Canadians
Conservative foreign affairs critic Tony Clement, whose government under former Prime Minister Stephen Harper signed the Saudi arms deal, also declined RCI's request for an interview.
The deal to export the LAV 6.0 model was brokered by the Canadian Commercial Corporation, a state-owned agency that helps Canadian exporters – in this case London-based General Dynamics Land Systems Canada (GDLS-C) – access foreign markets.
While the deal has drawn criticism from human rights and peace groups, it has been applauded by the defence industry, which says it strengthens Canada's standing as a world-class producer of advanced weapons systems.
"We are a very export intensive industry and Canadian defence and security companies are producing the world-class goods, services and technologies sought the world over," said Christyn Cianfarani, president of CADSI. "Our strong export record helps Canada's industry employ 109,000 Canadians in high-value jobs across Canada."
The deal is expected to support 3,000 Canadian jobs over 14 years, in London, Ontario.