If it was a human, it might well be considered cruel and unusual punishment.
That's what Vancouver blogger Ulara Nakagawa thought when she saw the elephant in what she describes as a "prison" in "one of the cruellest, most archaic zoos in the modern world".
"Hanako" (flower child) is a 69-year-old Asian elephant in the Inokashira Park Zoo in Tokyo
She was brought there from Thailand as as youngster and has spent 61 years alone, most of it in a concrete enclosure.
Nakagawa's October 2015 blog post about the situation has since inspired a petition to require the zoo to either improve the conditions, or send the ageing elephant to a sanctuary.
Japan : get with the times –shut down this elephant exhibit. Allen-PETA
It is well known that elephants, especially females, are social creatures and spend their lives with others in family groups and small herds.
Quoted in the Mail Online, Elisa Allen, associate director at PETA  says that Hanako is kept in solitary confinement in a small barren concrete dungeon.    'She is denied the opportunity to feel grass beneath her feet, the company of other elephants and even the chance to see anything but a grey wall", she says.  "Hanako has already been imprisoned for six long decades. Japanese authorities must get with the times and shut down this elephant exhibit immediately and send Hanako to a reputable sanctuary where she can live out her remaining years in the company of other elephants.'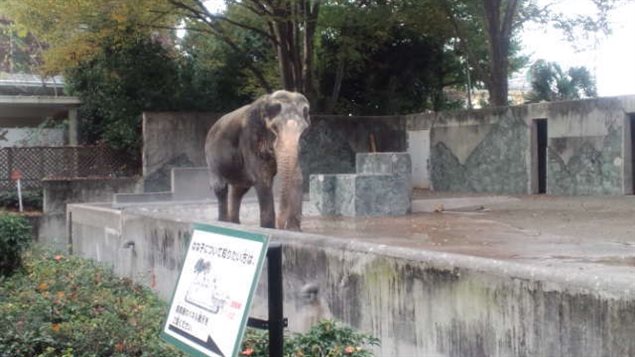 Nakagawa who visited the zoo says the elephant was, "Totally alone in a small, barren, cement enclosure with absolutely NO comfort or stimulation provided, she just stood there almost lifeless — like a figurine. There was absolutely nothing else for her to do. It was beyond painful to take in".
Petition "self-righteous, bigoted"– Deputy zoo director
Nakagawa and others want an independent medical expert to examine Hanako to determine whether the ageing elephant could be moved to a better environment in Japan or perhaps overseas.  If not, they want better conditions such as sand piles, a heated pool and other forms of stimulation.
According to the Canadian Press,(CP) the deputy director fo the zoo Hidemasa Hori defended the zoo's practice saying it is culturally different than the western view.   CP also reports he called the petition, "self-righteous and bigoted."
Over 380,000 people have signed the petition so far.
Additional information- sources