Hundreds of taxi and limousine drivers disrupted traffic at Montreal's Pierre Elliott Trudeau airport for over three hours Wednesday morning.
Calling it a "blockade," the drivers were attempting to send a message to Quebec Premier Philippe Couillard's provincial government that UberX, Uber's low-cost ride-hailing service should be outlawed.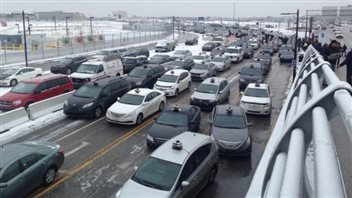 Drivers say Uber drivers are undercutting fares and operting outside the law.
Last week, the government announced it would create a commission to look into way of integrating new technological entrants into the provincial taxi business.
The hearings are scheduled to begin later this month.
Meanwhile, Montreal Mayor Denis Coderre on Wednesday called for a temporary suspension of UberX operations while the the government studies the problem.
Taxi drivers across Canada have been staging demonstrations against Uber and taxi drivers in Toronto were planning to strike during rush hour on Friday, but called that action off Wednesday afternoon.
Earlier this week, Edmonton became the first city in Canada to pass a bylaw regulating what it calls private transportation providers and other cities are expected to follow suit.
Benoit Jugland is a spokesman for the Regroupement des travaillreurs autonomes metallos (RTAM), an organization that represents both taxi owners and taxi drivers.
He spoke to RCI from the organization's headquarters in Montreal.
Listen