"Canada has completely divorced its social programs and policies from its human rights obligations," argued the head of Canada Without Poverty before the UN Committee on Economic, Social and Cultural Rights.
Each year, more than 235,000 people are homeless, 3.4 million are food insecure, 850,000 use food banks each month and almost five million people live below "any acceptable measure of poverty," says the advocacy group.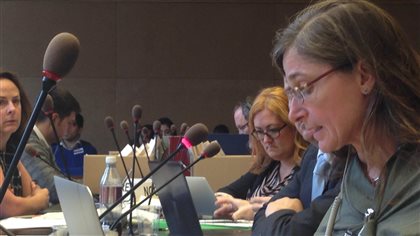 'We're asking for…basic necessities'
It argues that Canada's social spending is at its lowest level since 1949, even though the World Bank ranks Canada as having the 11th highest GDP (Gross Domestic Product) in the world.
"We're asking for a national anti-poverty plan that is based in human rights, that's going to look at the right to housing, the right to food, the right to clean water, the right to a lot of these basic necessities that keep us alive," says Harriett McLachlan, president of Canada Without Poverty.
Listen
'Some positive steps…but'
Canada had a change of government in October 2015. The new government has "taken some positive steps towards addressing poverty," says the group's news release, but it needs to commit to uphold human rights and provide sustained funding for social programs.