It seems like every month there is a story of a newsroom being cut, or a radio station shutting down, or a media merger leading to newspaper closures and reporters being let go. In January alone over 200 media job cuts were announced by various major companies.
Dwayne Winseck (PhD), is professor at the School of Communication and Journalism at Carleton University in Ottawa, and director of the Canadian Media Concentration Research Project.
Listen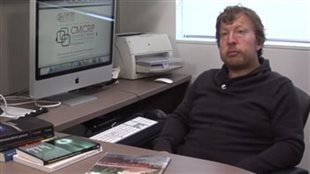 Professor Winseck notes that in Canada as elsewhere, there is a relatively high degree of media concentration among a few major companies.
What is unique in Canada he says is the vertical integration whereby a huge company, usually a telecom operation, owns radio, tv and newspapers, (production) and also the distribution operations like cable companies and wireless phone networks.
He says on the one hand they are not terribly interested in news quality as that is not their priority, and on the other it has presented conflicts of interest and direct interference with news coverage.
In many cases they will simply close or reduce radio, tv, or newspapers they deem to be not profitable or not profitable enough. Often these are in Canada's many smaller or medium-sized cities. They are then served by the outlets the company owns in the major cities. There is then a loss of local news, but news outlets are also reducing foreign bureaus, again limiting news resources.
He also points out that many laid off journalists have now found work as "spin doctors", media relations people, working for companies with a vested interest to shape the news.
While he says there are other cases of experienced journalists finding new outlets for their work, with new blogs, and startup quality news websites, these are specialized niche areas, and not sought out by the general public as would a "mainstream" outlet such as a radio of tv newscast, or newspaper.
He says while this is a bright spot on the horizon, it is still not enough to offset the loss of general news coverage, and to combat the way news may be getting spun by the ever increasing media relations sections of companies.
In the meantime, Canada's Heritage Minister and the Heritage Committee says it is seeking a number of meetings to consult with a variety of experts on how the shift to the internet is affecting Canada's media, creative and production outlets.
Addtional information- sources