It is truly a bizarre story, and it continues to be bizarre.
This week the British Columbia Human Rights Tribunal awarded a claim to a woman who had filed a complaint against a company for religious discrimination.
In 2014, Bethany Paquette, a graduate of Trinity Western, a Christian university in British Columbia, applied for a job as a guide with Amaruk Wilderness Company. (Investigation by CBC and others led to speculation that this company and a number of other elabarate online companies/websites associated with its director living in B.C., did not actually exist)
This supposed Norwegian company responded in emails from a representative using the name Olaf Andersen, and later Cristopher Fragassi-Bjornsen saying she wasn't qualified, but with additional bizarre and offensive letters to her explaining why she would not be hired including that company policy believed homosexuality was the best case scenario for a man, and referred to a heterosexual marriage to any B.C. woman as "emasculating."
A Google plus account for the name "Olaf Anderson" of Amaruk, with his purported photo, actually shows a photo of Norwegian actor Kristofer Hivju who played "Tormund" in "the Game of Thrones" the popular HBO television series.
Christopher Fragassi-Bjornsen, co-CEO of Amaruk is also listed as an executive of several other companies including Norskk, Spartic, Militis, and Norealis.   Norealis is listed as operating a male erotic site called MaleCorps.com, and images from that site are found in the other companies websites. However, Norskk seems to be the only site still available at this point.
These stated in part that she was being rejected for her Christian beliefs, and her university's, (Trinity-Western)  stance against same-sex relationships.
Ms Paquette filed a complaint in British Columbia with the Human Rights Tribunal against the company and director Christopher Fragassi-Bjornsen.
Cristophe Fragassi or Cristopher Fragassi-Bjornsen is a native of France but lives near Victoria BC with a male partner according to a report in the National Post
"Try and get any money from me" C Fragassi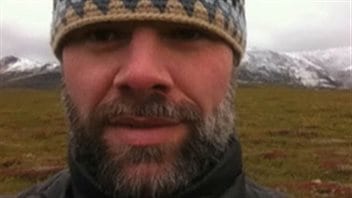 At the tribubal hearing in November. Fragassi-Bjornsen, demanded that questions be asked in French, and that he be given a security detail, even though the tribunal noted, "Mr. Fragassi-Bjornsen demonstrated both during the discussion of preliminary issues and in his written submissions to the Tribunal over the course of this Complaint a clear competence in the English language".
When his various requests were denied, he walked out stating he wouldn't pay any award the tribunal ordered. The National Post reported he shouted, "Try to get your order, try to get any money from me".
The tribunal continued without him, and  in it's judgement the tribunal said although she was not qualified for the position, the company's responses constituted "egregious" religious harassment.
The tribunal awarded her $8,500 for "injury to dignity and self respect" (102 of judgement) and (103) $661.08 for various expenses.
Ms Paquette meanwhile is in now in northern Canada running dog sled tours, similar to the kind of work that Amaruk had said she was not qualified for.
Additional information- sources