They're called Jacob sheep, a biblical reference to Jacob from the book of Genesis having been given sheep with spotted coats as wages.
They are a unique breed with both males and females having horns, sometimes more than one pair and their spotted black and white wool coats.
Originating in the Middle-East, the species was spread to Europe, and beyond for dietary reasons, as well as trade.
However, going back 3,000 years in the Middle-East the breed apparently disappeared from Israel long ago.
Now a Canadian couple in Abbotsford, British Columbia, about 70km southeast of Vancouver and near the border with Washington State, hope to change that.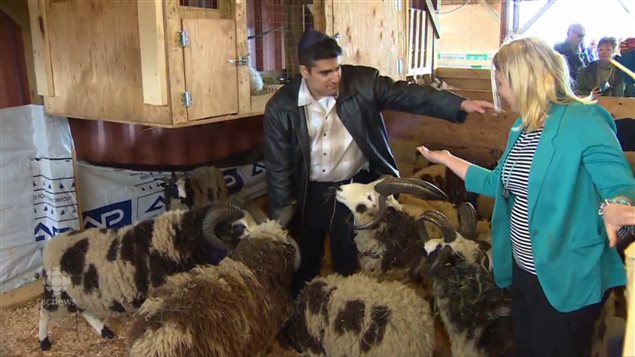 Jenna and Gil Lewinsky found four Jacob sheep on another farm in the province, and began a breeding programme. They now have about 100 animals with their goal to eventually return the species to Israel.
Jenna Lewinsky says they hope to return a part of ancient history to the region. Qouted in the Guardian newspaper she says, "It should be the national animal of the Jewish people. It would be a very important and historic moment when the sheep return after basically 2,000 years."
The idea was originally blocked by Israel's agriculture ministry, as livestock imports from Canada were not on its "approved" list.
However, in February the Israeli ambassador to Canada visited the farm and has since been working to allow the transfer.
In late 2015, the Israeli agriculture ministry changed its stance and contacted its Canadian counterparts to allow the sheep to travel to Israel.
The Lewsinsky's say they hope to travel with the sheep to Israel this summer where the animals would be housed at a heritage park, for educational and heritage purposes.
By clearing the way for the Jacob sheep, Canada and Israel are now working on broader bilateral agricultural deals.
Additional information-sources