Justin Trudeau flies to Washington today for the first state visit and White House dinner by a Canadian prime minister in 19 years. There is a buzz in the U.S. about the 44-year-old leader and his wife. The two were recently featured in a photo shoot by Vogue magazine and an interview with the leader on the TV program 60 Minutes was watched by millions.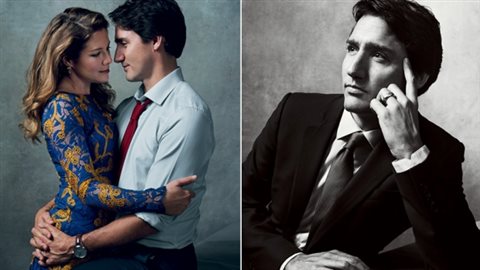 Trudeau brand 'of tremendous interest to the U.S.'
Trudeau has a personal and political brand, says Kenneth Wong, a professor of marketing at Queen's University. And right now, he says, Americans are attracted by the personal brand. "It is, I think…very authentic, very real and of tremendous interest to the U.S.
"If you think of his personal brand, he has all the elements that would make a prime time soap opera producer in the U.S. happy. He comes from a political dynasty. In the U.S. they had the Bushes, the Kennedys. His marriage to Sophie reflects Camelot…John F. Kennedy with Jacqueline…in their heyday.
First international player of his generation
"He is trying to position himself as born of privilege but really every man," says Wong. Trudeau is the son of former Canadian Prime Minister Pierre Trudeau yet he speaks frequently of his past as a bouncer, snow board instructor, teacher and even a boxer for charitable causes.
In terms of Trudeau's political brand, "Most of all, I think they see him as really the first of his generation to step up onto the international stage. The typical international leader or statesperson is probably 10 if not 20 years his senior. That makes him a very interesting character," says Wong.
Listen
Trudeau brand seen as 'a formidable force'
That coupled with Trudeau's big majority win in Canadian elections in October 2015 give him great credibility. The fact that he garners attention in the U.S. adds to his support at home and creates what Wong calls a "formidable force."
Effort to rebrand Canada
Wong thinks Trudeau will try to rebrand Canada on this trip as a land of innovation and opportunity where people are not afraid to do something a little bit different and to do it differently than has been done in recognition that times have changed and we need to change accordingly.
Several announcements are expected on this visit on topics like climate change and measures to ease border crossings for goods and individuals. In 2010, bilaterat trade was worth $645.7 billion, equal to $1.8 billion worth of goods and services crossing the border every day. At that time, an estimated 300,000 people crossed the border every day.