It started earlier this year when the Quebec Cree aboriginal group filed a legal notice of a large new land claim. The new claim extended into neighbouring Ontario and covers 48,000 square kilometres where other aboriginal communities already had long established claims.
Then two other aboriginal groups, the Wahgoshig of Ontario and the Abitibiwinni of Quebec protested the Quebec Cree claim which engulfs their own settlements.
Both groups said they were shocked by the Cree claim as they had not been consulted before the Cree filed the claim in Ontario Superior court.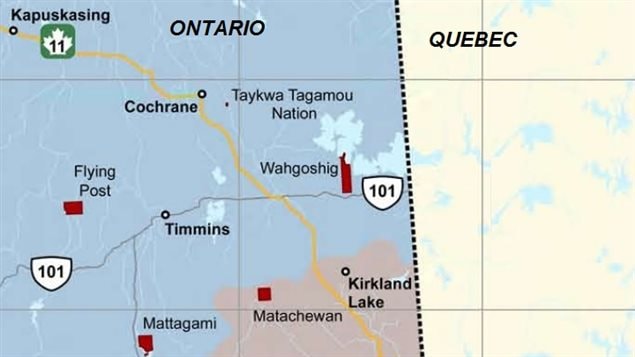 Now another Ontario group, Taykwa Tagamou First Nation has joined the Wahgoshig and Abitibiwinni in saying the Cree claim also infringes on their traditional lands.
Quoted in the Daily Press, , the lawyer representing Taykwa Tagamou  says, "We will do what we need to to protect our rights".  Aaron Detlor added, "The first step is going to be to understand what the Cree of Quebec are actually seeking with this lawsuit. What they are seeking is something called 'shared Aboriginal title.' And at this point, we're not sure what they mean by that."
The Taykwa Tagamou also want an apology from the Quebec Cree for proceeding without first discussing with them.
But that's hardly the end of it the concerns as the Moose Cree further north in Ontario also say the Quebec Cree claim infringes on their territory as well. In addition, the Moose Cree have ongoing discussions about possibly overlapping claims with the Wahgoshig.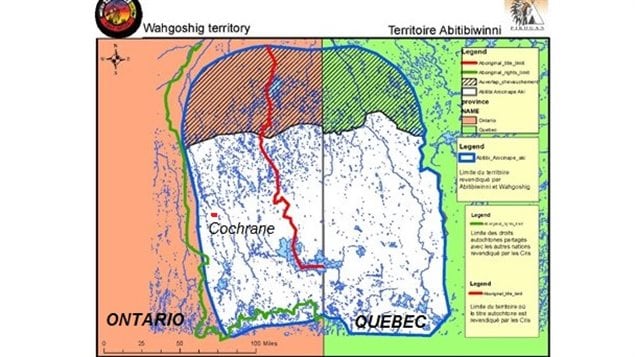 The issue could very possibly call the validity of the entire Treaty 9 into doubt.
The Quebec Cree claim that the Ontario-Quebec border and subsequent land claims deprived them of access and rights to land they had traditionally used by their ancestors.  They are also seeking millions of dollars in compensation in addition to the land.
Lawyer Aaron Detlor agrees the situation needs to be resolved and a new treaty may be the result. "There are some serious questions about the validity of Treaty No. 9. What this means is that we may be put in a position where we have to sit down and renegotiate the terms of Treaty No. 9".
Noting that provincial and federal officials as well as the various aboriginal groups would have to be involved, he added, ""The treaty relationship was never meant to be frozen in time. From the perspective of Taykwa Tagamou, it was always something that was supposed to be revisited, renewed and strengthened".
There are 46 treaties with First Nations groups in Ontario, signed between 1781 and 1930
Additional information- sources