Workers at the Canadian Banknote Company located in the capital, Ottawa,  wore black shirts on this day back in 1989.  It was the last print run of the Canadian one dollar bills.
The government wanted to switch to one dollar coins saying the coins lasted much longer and wouldn't have to be replaced at anywhere near the same rate, so it would save the mint a lot of money.
The new one dollar coin had been in circulation for almost two years, and with it's image of the iconic waterfowl the loon, quickly became known as a "loonie". It was not immediately popular and the nickname not without a slight pejorative context, "looney" also meaning "crazy".
To force the shift to the coin, the government decided to stop printing the one dollar bill on this day April 20, 1989 and would stop issuing them in June. The following month banks would begin instead to collect dollar bills in circulation and send them to the central bank for destruction.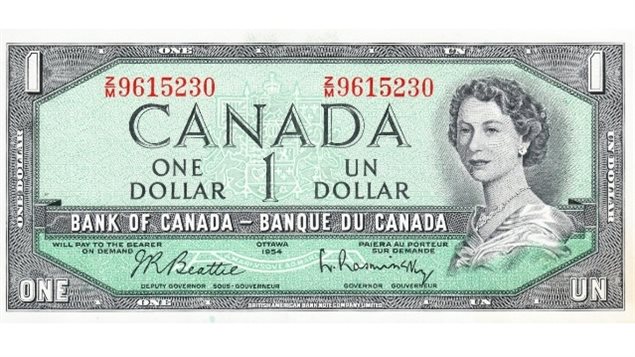 Canadians were advised that saving their "dollar bills" as collector items hoping they would increase in value, was not going to happen as there were millions in circulation.
However, for sentimental value sake, people could buy uncut sheets of dollar bills for $50.  At least $3-million worth of the uncut sheets were sold.
The next to fall victim to "cost saving" would be the $2 note. That was announced in the 1995 budget speech, and the "Tooney" (twoney) coin was issued the following year
Quick facts
-the first Canadian dollar and two dollar banknotes were printed in 1870, shortly after Confederation. This was followed by $500, and $1,000 in 1871, and $50 and $100 in 1872.
-Canada briefly had a $4 note added in 1882.
-until 1934, both chartered banks and the government of Canada issued banknotes, until the government assumed sole authority.
-in 1935 the first Bank of Canada notes were issued. These came in an English only, or French only version, but both had the image of King George V on them.
-in 1937 bills became bilingual and the new series featured King George VI
-a 1954 series was printed with Queen Elizabeth as the monarch, but the image was modified in 1957 to change the image as some said the Queen's hair resembled a demon's face.
-there was a unique 1967 series printed to celebrate Canada's centennial.
-the final run was designed from 1974 onwards and the dollar featured Queen Elizabeth on the front, and Parliament Hill as viewed from Quebec across the Ottawa River.