A new report  released on the eve of Earth day by a Canadian think-tank says Canada is doing poorly when it comes to the environment and greenhouse gas emissions.
Compared with other peer countries, the Conference Board of Canada  report placed Canada in 14th position out of 16 developed countries. The think tank gives Canada an overall "D" grade for its performance.
The latest study is called "How Canada Performs: Environment".
http://www.conferenceboard.ca/hcp/provincial/environment.aspx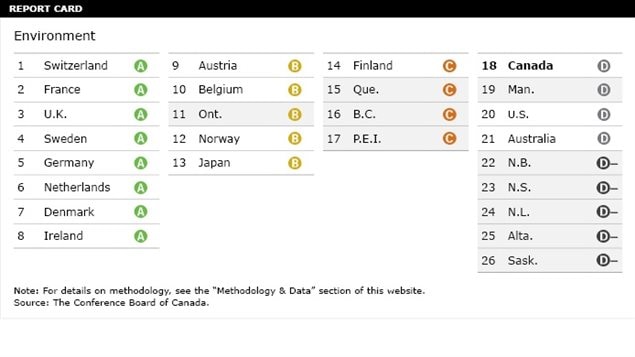 Looking more closely, Canada receives "D" grades on two of the three climate change indicators: GHG emissions and energy intensity. With 20.7 tonnes of CO2 equivalent per capita, Canada's GHG emissions are among the highest of the peer countries, only the U.S. and Australia fare worse, even though Canada has reduced it's energy intensity by 30 percent between 1995 and 2014.
Looking at provinces individually, there's not a lot of good news either, although the provinces with a high percentage of renewable hydro electric capacity, Ontario, Quebec , and BC perform slightly better.
Indeed, Canada gets its only "A" for low-emitting electricity generation with as much as 80 percent of needs coming from hydro and nuclear, although it is still behind Norway, Switzerland, France, and Sweden.
In terms of air pollution Canada's rates have all improved over the past couple of decades, but overall gets a "D" grade for volatile organic compounds (VOC) and particulate matter (PM), a "C" for nitirogen oxides (NOx, and "B" for sulphur oxide emissions (SOx)
In terms of managing fresh water, based on waste treatment and water withdrawals, Canada was in the middle of the pack with a "B" grade.
"Canada ranks near or at the bottom on most of the nine indicators we used to assess environmental performance. While some of Canada's poor grades can be explained by our large land mass, cold climate and resource-intensive economy, the results clearly indicate that the environmental challenges are significant and we have a long way to go towards improving our comparative environmental performance," said Louis Theriault, Vice-President, Public Policy. "These  results show that Canada needs to encourage more sustainable consumption. Protecting the environment from  damage is not a problem for tomorrow but a challenge for today."