Canada plans to submit its Arctic continental shelf claim in 2018 and it is expected to include the North Pole, overlapping with both Russian and Danish submissions that also claim ownership of the planet's northernmost point, according to Canadian officials.
Under the United Nations Convention on the Law of the Sea (UNCLOS), which Canada ratified in 2003, all coastal states have a continental shelf extending 200 nautical miles (370 km) from coastal baselines. They can also extend their claim by 150 nautical miles (278 km) beyond 200 nautical miles if the shelf is a natural prolongation of their landmass.
However, there are circumstances where a coastal state can claim even further than 350 nautical miles, said Mary-Lynn Dickson, head of Canada's UNCLOS Program.
(click to listen to the interview with Mary-Lynn Dickson)
Listen
"For instance in the case of submarine elevations, if a coastal state can prove that submarine elevation is part of its continental landmass, and if that feature extended beyond 350 nautical miles from their baselines, the coastal state could delineate an outer limit past 350 nautical miles," Dickson said.
Understanding EEZ and continental shelf rules: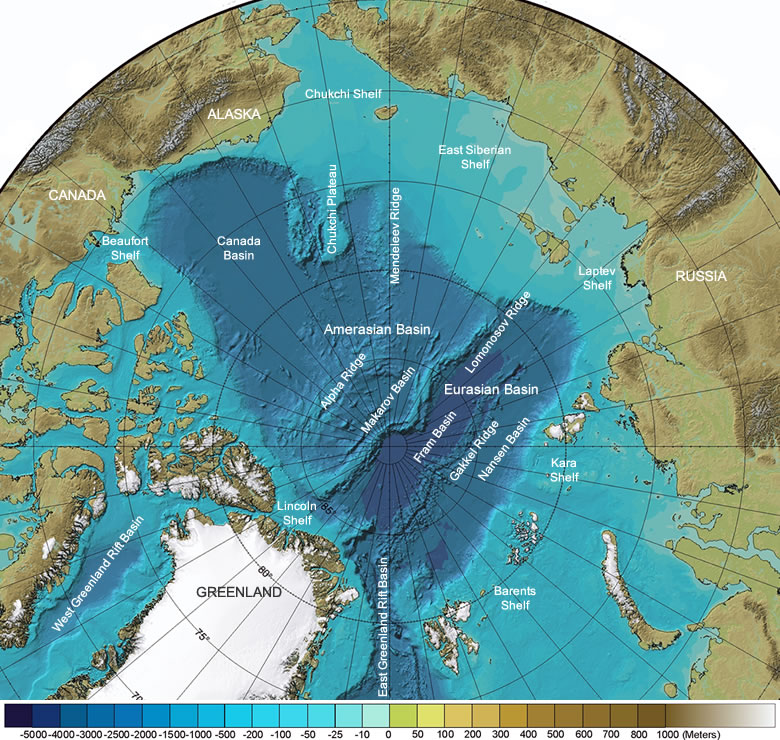 Canadian scientists claim that Lomonosov and Alpha-Mendeleyev Ridgesm, underwater mountain ranges stretching under the Arctic Ocean from Canada to Russia, are submarine elevations, thus giving them the right to claim the seabed under the North Pole.
Denmark too has delineated their outer limits extending from Greenland, across the Arctic Ocean, to the 200 nautical mile Exclusive Economic Zone of the Russian Federation, Dickson said.
"We have collected data and we will develop it as best as we can to make scientific case, and we expect that we will overlap with Denmark and Russia," she said.
"Canada is currently preparing an Arctic submission that is based on science," said in an email John Babcock, a spokesperson for Global Affairs Canada. "The collection and analysis of scientific data to support the submission is ongoing, with a final survey to be undertaken later this summer, in collaboration with Sweden and Denmark."
Research in harsh environment
Dickson said Canadian scientists in collaboration with their colleagues from circumpolar countries have been working on gathering scientific data to back up Canada's extended continental shelf claim since 2006.
"It's a very harsh environment," Dickson said. "The amount of time that we can go up north, in the High Arctic to do our work is very limited – six to eight weeks in the summer."
And because it's such a challenging environment scientists have to use various methods to collect data, she said.
"We've set up ice camps on the ice up north," Dickson said. "We've also used icebreakers to collect data; and when you use icebreakers you need two icebreakers. You need one icebreaker breaking ice in front of the ship that's collecting the data, because we're going through ice that's meters thick, two-three meters thick."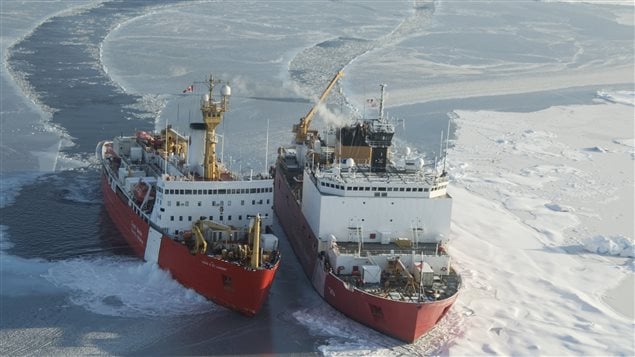 Between 2007 and 2011, scientists worked in the Western Arctic to measure sediment thickness, one of the key criteria for proving a country's extended continental shelf claim. And between 2014 and 2015, scientists have conducted research cruises in the Eastern Arctic, off Ellesmere Island, Canada's northernmost island.
The last survey in the Arctic Ocean, a joint scientific program with Sweden, is expected to take place this summer, from August 5 to September 20, when the Canadian Coast Guard icebreaker Louis S. St-Laurent will be joined by the Swedish icebreaker Oden.
"Once that survey is collected, we'll go into a data analysis and interpretation phase and then start looking at the data to develop the outer limits to define that continental shelf," Dickson said.
The submission is expected to be several thousands of pages, she said.
North Pole fever
In 2009, Norway became the first country to get its Arctic territorial claims approved, while Denmark/Greenland submitted a claim in December 2014.
In 2013, Canada submitted a partial claim for the continental shelf in the Atlantic Ocean. Canada's then foreign affairs minister John Baird raised eyebrows when, during a news conference, he said the country's scientists had been asked to do further work mapping the continental shelf so it included the North Pole.
Allegations that the request came from then Canada's Prime Minister Stephen Harper, after scientists concluded Canada's continental shelf ended south of the pole, were not disputed at the time.
The United States has not yet ratified UNCLOS and cannot make a claim unless they do so.