The province of British Columbia (B.C.) is taking a lesson from Alberta's massive wildfire and telling residents to prepare themselves in case they need to evacuate because of fire. Two wildfires have merged into one in northeastern B.C. near Fort St. John and some residents have already fled. Fire has spread over 90 square kilometres.
Several provinces in western Canada are extremely dry because of drought and low amounts of snow that fell in the winter that has just finished. Unusual, extremely high temperatures and low humidity have made the boreal forest that spreads across the region tinder dry.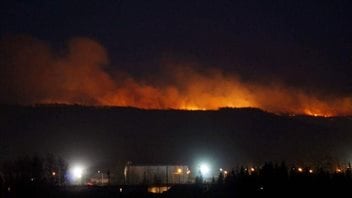 Western Canada is tinder dry
It is normal to have fires during the summer in western Canada, but these wildfires are starting earlier than usual. Scientists say hot and dry conditions are expected to continue through the next few months because of El Nino, the cyclical warming of the Pacific Ocean. Average temperatures have been higher over the last few years because of climate change.
Where towns are located near or inside the boreal forest, fire officials are advising homeowners to clear trees and brush to at least 10 metres away from homes. They are asking park officials to remove fire-prone trees where they can.