They were once legion, but now there are only about 500 left.  Scientists don't know where the North Atlantic right whales have gone and so have expanded a mobile phone app so citizens can help them locate the huge creatures.
Tracking right whale sightings began about 30 years ago. Since then they were regularly known to migrate northward to Canada as  summer approached and could often be spotted in Canada's Bay of Fundy region and around the southern tip of Nova Scotia.
But in recent years, the huge mammals, weighing up to 70 tonnes, have been seen less and less in those areas, and scientists don't know where they've gone.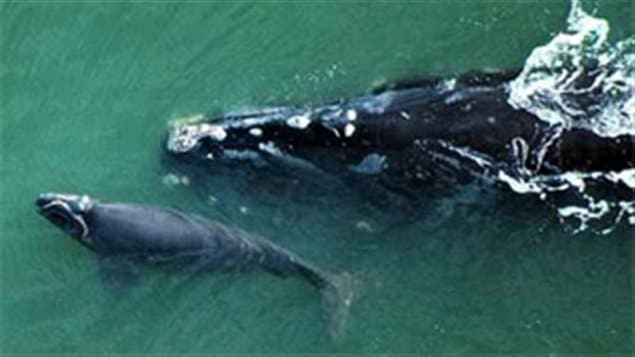 "It shows us how little we know about what these whales are doing … We don't even know where they're going. It's been a real shock to the system for a lot of people", says  Sean Brillant, senior conservation officer with the Canadian Wildlife Federation,.
They are called Right whales because for whaling ships of the 18th and 19th centuries they were the right whales to catch because they were slow and could be caught easily, were not far off the east coast, they floated when killed, and had plenty of blubber for whale oil.  Because of that they were hunted nearly to extinction.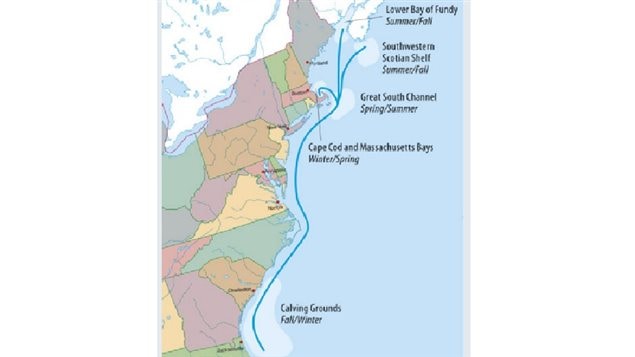 There's an app for that
Because the whales are threatened, a system was devised to alert commercial shipping to the presence of the slow moving creatures. This was in order to prevent collisions which were almost always fatal for the whales.
Initially "Whale Alert"  was in the area of Boston, where sensors were placed in the sea that would detect whale calls and that in turn would send a signal to ships so they could slow down, increase visual observance and take evasive action.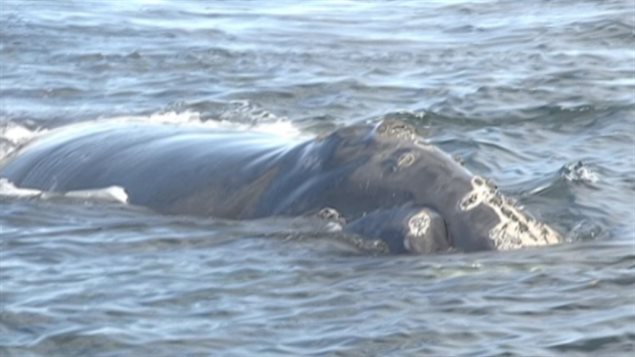 Scientists have now tweaked the  mobile app so citizens can add sighting reports from Canada. Together this will help track whale movements and presence. All information is shared in real-time with leading whale researchers.
Brillant says,  "The more eyes that are on the ocean, whether they are trained scientists or people in pleasure craft, a sighting of a right whale could be a really valuable find".
Brillant notes that attaching tracking devices to the whales only works for a short time as the whales bump into each quite often, and with such force the devices are knocked off after only a few weeks.  Embedding trackers in the flesh is also frowned upon as that can lead to wounds and infections.
Additional information-sources