Car ! Ca-ar!
That was and is the cry heard in cities and towns across much of Canada…since, well, forever it seems.  One or more of the kids playing street hockey or road hockey would spot a car coming down the street and advise everyone to pull the nets and move out of the way. Once the car has passed, the  nets are pulled back in place and the game resumes.
It's a Canadian tradition.  Except bureaucracy and 'bubble wrapping' of kids (overly security conscious) has struck in Canada's biggest city, Toronto.
Street hockey is banned there, and kids playing could get a fine of up to $90.
Now Ontario's new minister of children and youth services has written a letter to Toronto city council asking that the bylaw be withdrawn.
Michael Couteau says, instead of being banned, street hockey should be encouraged for the simple reason that it gets young people outdoors and active.
A Toronto city councillor, Christin Carmicheal Greb, agrees. She would like to see road hockey allowed on streets with a speed limit of 50km/h or less (usually residential streets) and during daylight hours when visibility is good.   Quoted by the Toronto Sun news, she says," "We've become a culture where parents are worried about their kids all the time and kids are inside watching TV or playing on their iPads … I'd rather see kids outside playing and being active."
That seems a change from a comment she made last year to CBC when she said playing in the street was a "safety issue for the city, a liability issue".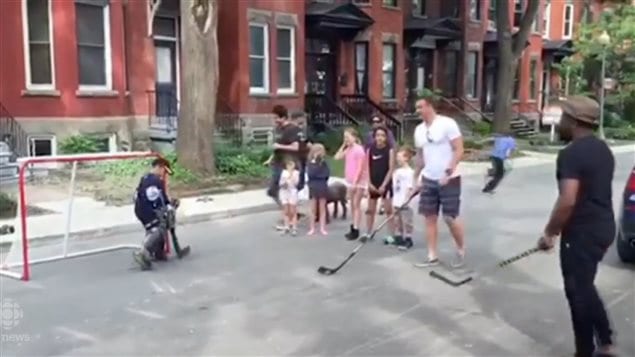 Another councillor, Josh Matlow who spoke to CBC as far back as 2012 said street hockey should not be banned, "I think that it's inane to have a bylaw on the books that prohibits kids from doing what we know they're doing anyway, that frankly most parents are actually encouraging them to do, rather than be in front of a computer or a TV screen".
Even though the by-law is rarely enforced, Matlow wondered, "it begs the question why do we have a bylaw that isn't enforced and nobody likes in the first place at all?"
Last year, Toronto Mayor John Tory also wondered why the law was there saying at the time "are we going to ban Hallowe'en next".
Cities like Halifax and Vancouver have nuisance by-laws for blocking traffic, but as kids playing hockey or basketball almost always move out of the way, it is very seldom an issue. In 2010, a father in a Montreal suburb was fined $75 for playing hockey in the small street with his son, and several other father's and children near his house. This came following a noise complaint. That fine raised a storm of protest from other parents and local media. Montreal, like many cities has by-laws against impeding traffic, and against noise, and if a complaint is lodged, then police say they must intervene. In those rare cases, it's usually just a warning. A judge later ruled that David Sosson did not have to pay the fine.
Calgary is thinking of creating an amendment to their by-laws to specifically allow street hockey in some areas.
Toronto's ban is still on the books, but perhaps with the impetus of the provincial minister's letter, something might be done and kids will soon be yelling "car" once again and not "police car" and face a $90 fine.
additional information-sources