Pokemon Go has taken the world by storm. Professor Nicholas Graham, a computing expert at Queen's University in Kingston, Ontario, says the response has been in the many millions, and one of the fastest in gaming history.
Professor Graham's research focuses on the technology underlying the design and development of the next generation of digital games, including computer-aided exercise, game networking and simulation gaming technology.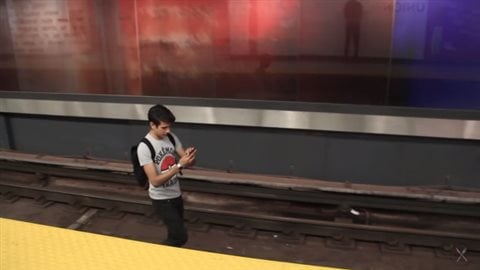 He acknowledges the mixed blessing of this latest development. "Pokemon Go has done a wonderful job of showing how physical activity can be incorporated into a game, he said. "The only dark shadow over the game's success has been reports of people getting hurt while playing due to walking into traffic or walking over a cliff, or of people driving while playing the game."
And the reports associated with the game continue to come in both positive and negative. In Toronto on Wednesday, the TTC, the city's transit commission, reacted strongly against some Pokemon Go stunts promoting the game that put one player in the tracks of the city's subway system.
In an interview with CBC News, TTC spokesperson Brad Ross described the video of actor Mark Correia, as an "incredibly dangerous stunt" that could have resulted in the young man's death. He confirmed that the TTC was not asked for permission to shoot the video.
"The disregard for their own safety and convenience of others is of great concern to us," Ross said of the people behind the video.
"Besides an oncoming train, 600 volts of electricity run through the third rail", he warned. Ross said the TTC is investigating and charges for trespassing and filming without a permit could result in a fine upwards of $500.
"Don't ever go down to the track to try to make any kind of a point," Ross said. "It's just not worth it."
Meanwhile, activists are using the little characters to draw attention to the plight of the children stranded in the warzones of Syria. The images are tweeted with statements imploring the world: "Save me !! I am in #Syria". It remains to be seen if the campaign will have any traction.
Based on the already-so-popular Pokemon games, the idea is to collect the little "pocket monsters" in the environment outside around you. Professor Graham says it builds on the success of the game that so many teenagers and young people grew up with. And the novelty of the game taking people outside into the environments around them has been a huge success.
Professor Graham says Microsoft's HoloLens, which is basically a pair of glasses, that renders the world augmented right through the eyes, without having to look through a screen, may be the next breakthrough. Perhaps people will be back in their seats with this launch.