Think about it for a moment.
Think about not having the use of your arms–not being able to pick up that glass on the table, not being able to turn that door knob.
Think about not being able to do all those other things that the rest of us take for granted.
Today and tomorrow we will share the stories of two men who are doing something about the situation.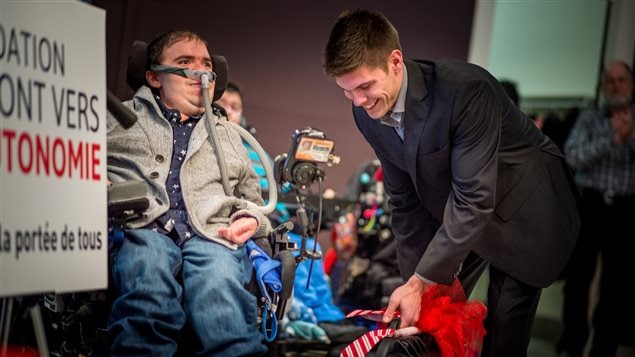 Samuel Fleurent Beauchemin, a 26-year-old resident of Victoriaville, Quebec, didn't just think about what life is like when a person lacks the ability to use his arms.
He lived it every day as he watched his older brother, Guillaume, struggle with the ill-effects of his muscular dystrophy.
Guillaume died in 2014 at the age of 25, finally worn out from heart-breaking manifestations of his ugly disease.
Ironically, Guillaume died just two weeks after being fitted with a robotic arm that made his life slightly more bearable.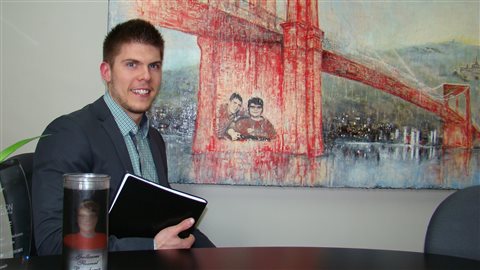 In awe of his older brother's courage, it was Beauchemin who found the money for the $50,000 purchase of that robotic arm by creating the Fondation le Pont vers l'Autonomie.
But Beauchemin did not stop there.
From 2013 to 2015, he studied at the University of Montreal, a program called Non-Profit organization management, to acquire the skills to run a foundation.
In 2014, as a "volunteer," he raised $150,000 for others who–like Guillaume–suffered from crippling diseases
He didn't stop there, continuing to huste for money on line (www.soyezlepont.com), hosting fundraisers and soliciting corporate donations.
In 2015, he upped the take to $400,000 and he's not looking back.
In January, he began working full-time and drawing a salary from the Fondation le Pont vers l'Autonomie.
Now, 32 people in Quebec have robotic arms thanks to Beauchemin and his fund-raising efforts–nine with the Fondation le Pont vers l'Autonomie.
Anyone wishing to contribute can contact Beauchemin at
He joined RCI by telephone from Victoriaville.
Listen