The new technology of television had been amazing visitors to the annual Canadian Nation Exhibition in Toronto since before the Second World War.
Indeed there had been some brief experiments in actual broadcast television as far back as 1932 based in Montreal, but this ended in 1935, and as the threat of war loomed in the later thirties, priorities shifted and further efforts at developing this technology were halted.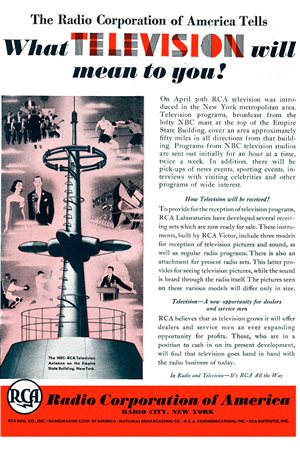 Postwar, television began to grow in the US with 10-million sets sold there by 1950, 16 million by 1951, and many Canadians living near the US border in southern Ontario and parts of southern British Columbia bought TV's and elevated antennas in order to receive signals from American stations broadcasting near the border as early as 1947.
At first, only a few Canadian households had TV sets though as the cost for this new technology in today's economy would be the equivalent of several thousand dollars for a tiny 10 or 12 inch black and white screen.  Costs very quickly came down though as sales of tv sets grew and technology improved. By the early 1950's alongside printings of radio schedules, newspapers in Toronto also began printing the broadcast schedules of at least four US stations whose signals reached southern Ontario from Buffalo N.Y, only about 50 km away uniterrupted  across Lake Ontario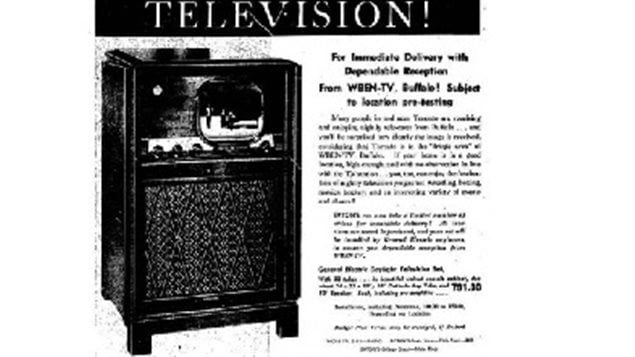 Southern Ontario and southern BC  (which could also receive US signals from Seattle) represented a significant proportion of the country's population, and because of the growing influence of American signals, Canada decided to get moving on developing a specifically Canadian service.  However, because of the existing influence of American signals, the Canadian technology would be designed to be in harmony with the American technology standard.
Then, on September 6, 1952, the first TV station in Canada went on the air in Montreal, the French language public broadcaster Radio-Canada CBFT.  September 8, saw the first TV broadcast was made from the public broadcaster's English service,  the Canadian Broadcasting Corporation station CBLT
After an inauspicious debut with the station ID, upside down and backwards, the night's programming began at 7;15 pm and featured a weather forecast, and a puppet sketch.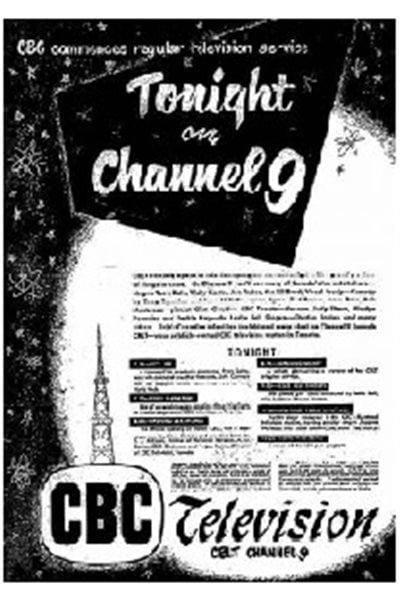 A "news magazine" was presented with highlights in the development of CBC TV, various speeches by dignitaries including the Prime Minister, a variety show featuring a young genius pianist, Glenn Gould, followed by a half hour with a the Leslie Bell female choir, another variety show from Montreal and then to end the night the half-hour repeat of the 7;30 show was aired starting at 10pm.
Colour TV would come to Canada on July 1, 1966, although it really didn't become more common until 1969, and even then was phased in over a few years, with full time colour nationwide available as of 1974.
additional information-sources