This week the federal government officially recognized the continuing decline in numbers of the white whales  of the St Lawrence estuary by changing their status.
Previously labelled as "threatened" the beluga are now listed in the more worrisome category of "endangered".
While the whales were already protected under the threatened listing, the new category means a recovery plan will have to be developed among the federal and Quebec governments, scientists, industry, fisherman, aboriginal groups and other affected groups.
Over 100 years ago there were an estimated 10,000 beluga in the St Lawrence estuary, in 2012, there were only about 900.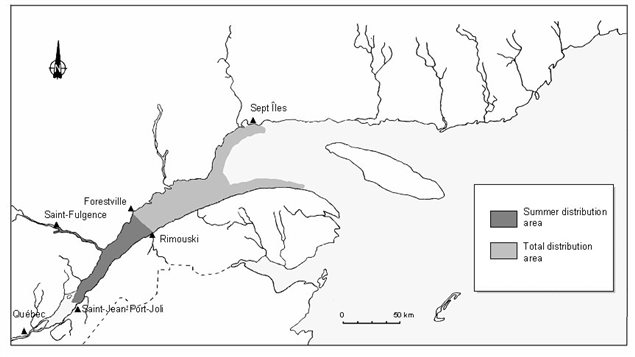 A number of factors since then are believed to be contributing to their continued decline including, pollution,  underwater shipping and boating noise, a decline in food sources and habitat disturbance.
In 2010,  eight dead newborns were found washed up on shores along the St Lawrence.  Since then at least three dead newborns are found each year.  In 2015, 14 whale carcasses were found,  three of which were pregnant females, and six more were newborns.
Autopsies of newborns suggest no signs of infections, tumours, or injury and the suspicion is they are dying of starvation after becoming separated from their mothers.
A scientist from the Vancouver Aquarium Marine Science Centre in British Columbia spent the summer studying the whales in an effort to find out why their numbers continue to decline.
Valeria Vergara believes underwater noise from jet-skis, ferries, and boats in general are having a negative effect.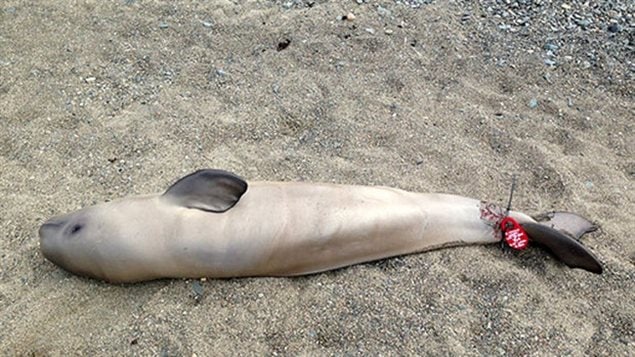 She says contact between mothers and calves are crucial to the young ones survival.
Quoted by the CBC, she said, ""Calves make softer calls, especially when they're born and during the first week or so of life", In a news release she added, "This is a species that is so profoundly social; one in which calves depend on their mothers for so long and so strongly, that their ability to stay in contact is key," said Vergara. "In these dark and turbid waters, that ability is an acoustic one."
The research team was also using unique new methods through drones which flew above the pods while towing a hydrophone underwater, giving simultaneous information  and reactions from the air and water.
While underwater noise is suspected as a major concern, the research team was also looking at the other causes of pollution, food, and habitat.
additional information-source