Scientists studying how climate change affects Arctic glaciers are increasingly seeing some "weird things happening," says a Canadian researcher.
University of Calgary geography professor Brian Moorman who studies glaciers in the Canadian territory of Nunavut says in the past few years he has seen things that has never seen before or that he would not have anticipated happening.
"Like large lakes forming on top of glaciers because melting water is being produced so fast that it can't escape, or lakes that are dammed up by glaciers catastrophically draining out and completely drying out a river valley or a lake basin in a matter of a couple of days, losing millions of cubic metres of water," Moorman said speaking on the phone from his office in Calgary.
(click to listen to the full interview with Brian Moorman)
Listen
'Unexpected processes'
Moorman is undertaking his research both in the field, studying the glaciers on Bylot Island in Nunavut, as well as working with the Canadian Space Agency, using satellite radar imagery to measure ice loss of glaciers through a process known as dry calving, a natural process when the front of the glacier breaks off and crumbles to the ground at the base of the glacier.
"Dry calving is important because with warming climates glaciers are melting, that meltwater flows into the ocean and ultimately results in sea level rise," Moorman said.
Researchers have a pretty good handle on how much the glaciers are melting through normal melt processes, Moorman said.
"But this dry calving does something different, it breaks the glacier into a bunch of small pieces that we think will melt much faster," Moorman said. "If you think of putting an ice cube on your kitchen counter and watching it melt. Well, if you then take a hammer to and smash it into bunch of little pieces, you see that it melts much faster."
The result is that dry calving results in water being introduced into ocean and adding to sea level rise much quicker than it would otherwise, Moorman said.
"I think the biggest surprise we have seen is not the acceleration, we're certainly seeing acceleration and melt, but the biggest surprise that I've seen is the variability in that melt and unexpected processes happening," Moorman said.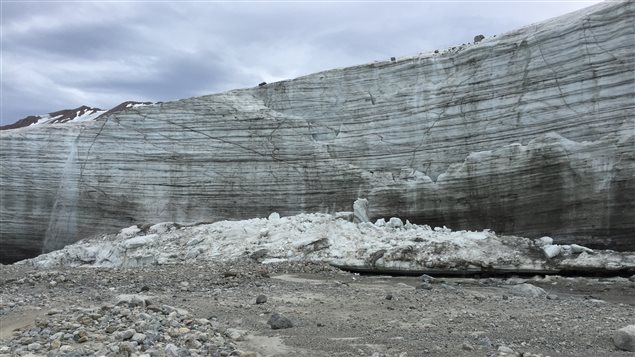 Shrinking glaciers
Scientists have to take these unexpected processes and variability into account as they work in the field, said Moorman who has just recently returned from Bylot Island after spending three weeks camped out on the glacier there.
"A river could be there one day and it's not there the next," Moorman said. "Crossing over a river to get to a study site might be easy in the morning and impossible to cross in the afternoon. And then we get these dry calving events where ice literally falls from cliffs that are tens of meters high and come crashing to the ground."
Research through satellite data and in the field observations is showing that glaciers in the Canadian Arctic are shrinking because of climate change, Moorman said.
"There is no more (glacier) accumulation happening on Bylot Island," Moorman said. "All the snow that comes, no matter where it is on the island , all the snow that is deposited in the winter time melts every summer. So as a result all that we seeing is the glaciers shrinking away, some are shrinking away faster than others, but they're all shrinking away."
And it's not just that the snow melts, the researchers are seeing dramatic "slush flows," he said.
"The snow starts to melt a little and gets really slushy and then, because it's in a mountainous area and there are slopes to it, these slush flows start to flow downhill," Moorman said. "All kinds of strange and weird things are happening there. We know that those processes occur but they're happening more frequently in areas that we haven't seen them occurring before."