A plan by the Liberal government of Prime Minister Justin Trudeau to deploy Canadian peacekeepers on a yet-to-be-disclosed peacekeeping mission somewhere in sub-Saharan Africa drew heavy fire from the opposition Conservatives as Parliament resumed Monday.
The conflicts in sub-Saharan Africa are dangerous, interim Conservative Leader Rona Ambrose reminded the House of Commons during question period as she zeroed in her sights on Liberal Defence Minister Harjit Singh Sajjan.
"Even Romeo Dallaire agrees that a mission there would be deadly," she said referring to Canadian Senator Dallaire, who in 1994 was the commander of the ill-fated UN peacekeeping mission in Rwanda. "Does the prime minister understand this is not a peacekeeping mission but rather a dangerous deployment that will risk Canadian lives?"
Sajjan, who recently returned from a fact-finding mission to Africa, retorted by saying "Canada cannot be an island of stability in an ocean of turmoil."
"Canada needs to do its part," Sajjan said responding to Ambrose. "This is why I actually took retired General Romeo Dallaire with me on my five-country trip to Africa to learn about the complexities."
The Liberals are taking a "whole-of-government" approach and are thoroughly examining the situation on the ground before they will commit Canadian troops to any peacekeeping operations, Sajjan said.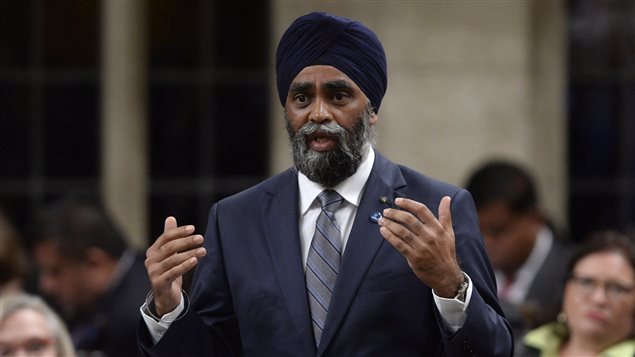 In late August, the Liberals announced the government will spend $450 million over three years on a peace and stabilization fund, and will commit up to 600 Canadian soldiers and 150 police officers for peacekeeping operations.
Returning to glory days of Canadian peacekeeping was one of the Liberal platform goals in the October 2015 election.
In an interview with The Canadian Press, Ambrose suggested Trudeau's real motivation is a desire to get Canada a seat on the UN Security Council in 2020.
"Do we have to send our men and women into harm's way to reach Mr. Trudeau's goal?" Ambrose said.
Canada withdrew its bid for a seat on the UN Security Council in 2010, when the Conservatives were in power.
Trudeau will be addressing the United Nations General Assembly in New York this week.
The federal government is sending a reconnaissance team to look at UN peacekeeping operations in Mali, where the mission includes counter-insurgency operations against an alliance of hardline jihadist groups and Touareg nationalists.
There have also been persistent rumours that the Trudeau government has been approached about contributing to an eventual Italian-led peacekeeping operation in Libya.
The UN is currently running nine peacekeeping operations on the African continent:
These UN missions have cost 693 peacekeepers their lives.
With files from The Canadian Press and CBC News