Get those winter boots and parkas ready because both the Old Farmer's Almanac and its competitor, the Farmer's Almanac, are predicting a cold and snowy winter for much of Canada this year.
According to the Old Farmer's Almanac, which is celebrating its 225th birthday this year and its 35th anniversary in Canada, most of us can expect a snowy winter with below-average temperatures followed by an unseasonably cool summer.
The prairies and much of northern Canada will be spared the winter snow, but will remain frigid. British Columbia, Newfoundland and P.E.I., however, will be blessed with warm summers, claims the Old Farmer's Almanac.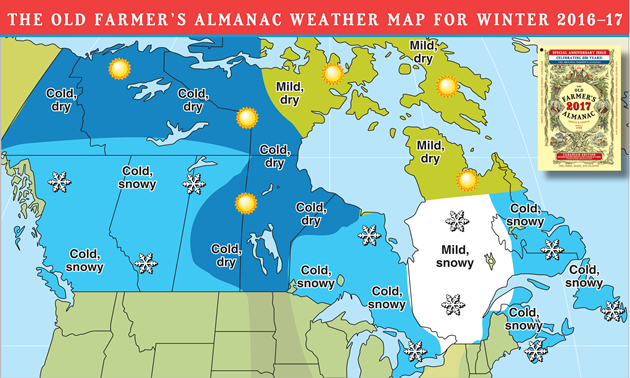 Dire predictions
The venerable publication's slightly younger competitor, the Farmer's Almanac (started publishing in 1818), is also making dire predictions about the upcoming winter.
"Exceptionally cold–if not downright frigid–winter weather will predominate over parts of the Rockies, Prairies, Great Lakes, Ontario, Quebec, and the Maritime Provinces," the Farmer's Almanac claims on its website. "Newfoundland and Labrador are expected to be cold and flaky. In contrast, milder-than-normal temperatures will prevail over British Columbia."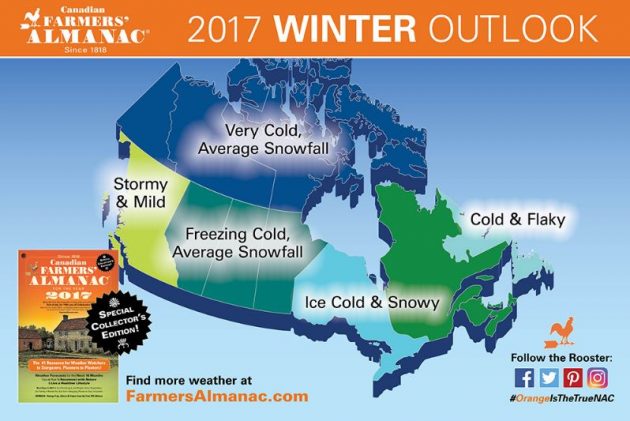 As if to up the ante on its competitor, the Farmer's Almanac predicts an early start to the winter. "An active storm track will deliver above normal precipitation to Quebec and the Maritimes," the publication claims. "In addition, this winter will bring an active storm track from the Pacific, which will deliver a dose of turbulent weather, accompanied by above-normal precipitation across British Columbia."
And to top winter off the Canadian Farmers' Almanac forecasts an "unforgettable February" with an extreme spell of cold weather over the eastern three-quarters of Canada during mid-February, with some locations experiencing temperatures as low as 40 below zero.
Both publications claim to be about 80 per cent accurate in their forecasts.
Not so fast, says Environment Canada's senior climatologist David Phillips. According to their calculations, the almanacs' forecasts have barely 50 per cent accuracy, the same as a flip of a coin, Phillips said.
"Last winter they said we were going to get the 'winter from hell',"Phillips said. "But we barely had any winter."
'Winter for everybody'
Phillips said we could expect a return to normal winter temperatures because the El Nino whether phenomenon is over and its colder sister La Nina hasn't materialized yet.
Phillips predicted a "winter for everybody" where people who enjoy winter activities get to ski and skate to their hearts' content, while those who can't stand the cold "won't have to cash in their citizenship and leave."
In the meantime, according to NASA scientists, our planet is warming at a pace not experienced within the past 1,000 years. August 2016 was the warmest August in 136 years of modern record-keeping, according to a monthly analysis of global temperatures by scientists at NASA's Goddard Institute for Space Studies (GISS) in New York.
The record warm August continued a streak of 11 consecutive months dating back to October 2015 that have set new monthly high-temperature records, NASA says.