The World Meteorological Organization says it now appears that this year will be the hottest ever.
The WMO in a provisional statement today (Monday) said that preliminary data shows average temperatures globally for 2016 will beat the record hot year of 2015 to be the warmest year since measurements began in the 19th century.
The WMO says temperatures this year are 1.2 degrees Celsius above pre-industrial times. That is alreay close to the target set by the international climate summitin Paris last year. It set a target limit of 2 degrees Celsius warming above pre-industrial temperatures with a effort toward a limit of 1.5 degrees Celsius
Because of climate change, the occurrence and impact of extreme events has risen P Taalas
WMO Secretary-General Petteri Taalas is quoted saying, "In parts of Arctic Russia, temperatures were 6°C to 7°C above the long-term average. Many other Arctic and sub-Arctic regions in Russia, Alaska and northwest Canada were at least 3°C above average. We are used to measuring temperature records in fractions of a degree, and so this is different".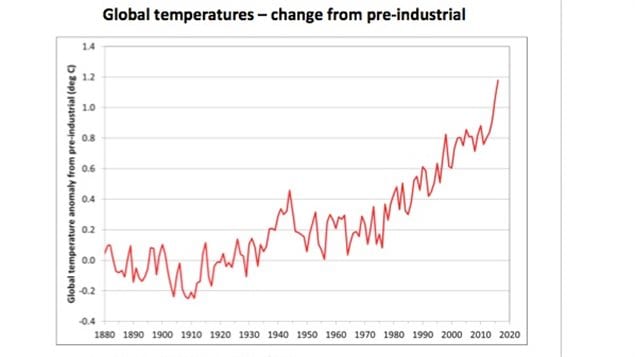 The report says that greenhouse gasses  continue to increase to new records and that Greenland's ice sheet showed early and significang melting while Arctic sea ice levels were also at record lows.
Taalas went on to say, "Because of climate change, the occurrence and impact of extreme events has risen. 'Once in a generation' heatwaves and flooding are becoming more regular.  Sea level rise has increased exposure to storm surges associated with tropical cyclones".
Records show that 16 of the hottest 17 years on record have been every year this century. The 17th year was 1998.
WMO published the provisional statement for 2016 to inform the United Nations Climate Change conference taking place in Marrakech, Morocco (COP22).  The final WMO report for 2016 will be released in early 2017.
Additional information-sources
World Meterological Organization
te-2016